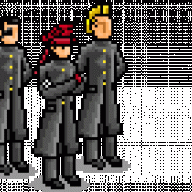 Joined

May 6, 2006
Messages

1,288
Trophies

0
Website
XP
Country
I just received my m3 lite from realhotstuff this morning....and so far I am impressed. The box came in the typical m3 packaging except some word changes on the carton. Inside there is a small cd with some old software and 3 cases, light blue, black, and white. The chipset itself was already in the black casing and that fits my navy blue the best so I used that off the bat. I have a 2 gig microsd by sandisk @ home but I used the 1 gig ultra 2 sandisk first to get a feel of the device. First thing I did was upgrade to 27a firmware and format the car to fat16 with 64k cluster size (proven overall to work best apparently). Keep in mind I haven't really touched my m3 sd I had before ever since I had a g6 3rd gen. Verdict is that it seems to run awesome. Even the included final fantasy 3 skin I love. Here are some points which I found notable so far:

1) The m3 lite is built sturdy with quality plastic apparently. The fit is a bit tight compared to the g6 lite but nothing like a supercard lite fit. At the end the m3 lite fits completely flush as far as I can tell....whereas the supercard may have some slight (and I mean very slight) sticking out. The microsd slot is on the side and to me that's a bit of a pain since I prefer the supercard front load slot....much easier to get to without taking the device in and out. But here's the really nice thing, the m3 lite incorporates a spring loaded mechanism for the microsd card and I think this works great since you get a very firm feel of when something is "in."

2) Interface is typical, anyone familiar with a m3 can pick it up and use it right away and some people new to m3's may need about 10 minutes to play with it before getting a feel for it. The supercard menu is much simpler yes but it's main highlight is that it runs extremely fast. The m3 lite's interface is comparable to the g6 except without the touchpad support....and has one extra screen of asking which save file to load and that's it. Overall works well and I have no complaints. A direct saving system like supercard would of been a plus though.

3) Every game I've tried (only maybe 5-6) has worked flawlessly.....looks like they REALLY sped things up with this new firmware update. You never see the red loading bar anymore except for games you write with normal mode (I did this with new super mario to support wifi play). I ran the Castlevania video for kicks and it runs the same as it did on the g6 so that in itself should show that things are working great.

Overall I think m3 team came up with a winner on this one and will give supercard lite a run for its $$. The price tag is higher on the m3 lite and I think the only justification would be for GBA support, nothing else.


Edit: Once again realhotstuff shows first rate service. I ordered and received shipping confirmation in 20 minutes. Then I see the product in the mail 2 days after (I am in California) and I know they're in New Jersey.....quick for sure. Highly recommended and they aren't giving me any grief over returning the g6 lite since I told them I would order a couple more supercard lites and m3 lites. Good people, highly recommended.

Edit #2: I just got through testing everything with the regular sandisk 2 gig card. With 27a, everything runs perfectly smooth without a hitch just like the 1 gig ultra 2 card. Just the card itself feels cheaper (regular sandisk). But seems to work perfect. Castlevania was tested and it looks the same, 5/5.