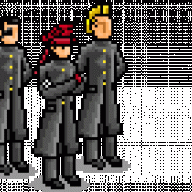 Joined

May 6, 2006
Messages

1,288
Trophies

0
Website
XP
Country
Hey guys, just wanted to share my thoughts on the supercard lite since I finally got around to playing with it last night....first lets review the goal. Goal is to have a simple device that my girlfriend can use on her pink DS without issues and to run solely DS games and homebrew.....and the other one for me will be used in my FF3 crystal edition ds (assuming I can get one)....I will still be keeping my g6 lite for my navy blue ds. Now, onto the impressions in bullet points.

1) The unit is well built for sure, the plastic is sturdy and despite the resistance going in the gba slot coming in and out, it remains unscathed, I'm pleased with this.

2) Everyone talks about how hard it is to take out the sc lite once it's inside. I was kind of skeptical of buying the card due to this matter (amongst others) but I was pleansantly surprised once again. On both DS's that I tried the cards with (both the enamel navy and the noble pink), the card was rather firm going in the slot. When taking the card out, if you follow instructions and lift the left side first with your finger nails and alternate pulling the left and right side of the sc lite, it comes out without too much problems. Once again, no complaints from me, a tight fit is better than a loose fit.

3) Unfortunately the microsd slot is not spring loaded, so it may not be as secure as people would like it. But I can assure anyone that the chances of a microsd card falling out of the sc lite card is nil unless you drop your ds or give it a real good impact on one side to shoot the transflash card out the slot..and once again this is conjecture...because it seems fairly firm while inserted. But it's definitely not hard to take out with the front loading.....in fact I like this about the SC Lite since it does not involve me prying away like I do @ the SD Card adapter to get the microsd to come out of it.

4) It wasn't completely flush until I gave it some real force but then it seems to wiggle itself out a bit afterwards. It's really not an issue at all...the device has no problem being advertised as being completely flush. It does not have the factory dust cover's flushness but it's definitely well designed cosmetically to remain invisible (on a white ds)...and the whole lack of clear coat makes basically no difference....but that's a personal opinion, I guess if you like feeling the smoothness of the ds lite and must have the whole ds smooth inside and out...then it might not be your cup of tea. (Then again I don't know of any device that employs a clearcoat as of yet)

5) Operation wise the supercard is a breeze if you do a little homework. The firmware is easy as hell to upgrade (I did from 1.62-1.63) and the software it comes with is easy as hell to learn as well. All the compatibility settings are @ www.dualscene.net so there's really no mystery. I was happy with this as well.

6) I tried 30 games out my gf's ds on the Ultra II Sandisk 1gig card and they all ran flawlessly as far as I can tell. Even Super Mario Kart soft resets which was a pleasant surprise since that's always been an issue with the g6/g6 lite. The menu is simple and easy to use if you've organized your games properly (I used seperate folders) and best of all....it is damn fast. I was really surprised with this. G6 guys are going to flame me but in my opinion, the SC Lite definitely runs faster than the g6 from my observation....I've been using g6 for the past year or so....just to give some background. The games load ridiculously fast and they run extremely well. I did a quick test to watch FF3 opening on both the SC Lite and the G6 Lite and they both ran flawlessly (I don't know how well of a test that is....but it definitely was identical except the SC Lite starts and executes much faster).

7) I gave the latest Moonshell beta a quick run after all this and once again with the simple installation interface....it installed flawlessly onto the microsd card itself and I didn't have to patch anything with the included patcher.

Overall I am very pleased with the supercard lite and am convinced that it's a better alternative over the g6 if we're talking about NDS support alone. Before anyone jumps and screams, I do not care about GBA compatibility. I have 2 ezflash II's for that and everything works fine on my GB SP. I didn't really buy a DS to play gba games nehow. I hope this helps some people in making a decision on the sc lite. It's really a nice product for the money and I would of paid twice as much for this device to tell the truth. Cheers to the SC team.