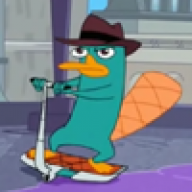 Joined

Apr 11, 2003
Messages

9,092
Trophies

0
Age

34
Website
XP
Country
Okay, I need to rant some more.

Somewhere right now is a guy sitting in a chair in his house watching tv as he thinks up new "programs" that all Staples should do. Keep in mind it's become more of a "program of the week" thing since it changes so often. Before I've had to carry a piece of paper around with me and mark how many people i talked to and basically catalog my entire day. The new one now is that after I clock in for the day, I have to check in with the manager first. This has got to be my favorite part of all. I will stand up at the front of the store for 20 minutes until the manager decides to appear from wherever they've been hiding and then I go up to them and say "I'm checking in" upon which they answer "Um...okay." Then after our shift is done we are supposed to go up to them and say "Is there anything else you'd like me to do before I leave", ha, yeah right. They should have mentioned it to me before my 8.5 hour shift was over.

Also, we have this thing called "Mystery Shoppers" where corporate hires people to come in and grade us in each department twice a month. Well, I'm starting to think that the people hired to do the "mystery shopping" don't even walk into the store. Someone named Rick got mystery shopped this time...we don't have anyone named Rick...also another person that got shopped was at home the day they say they shopped him and they didn't even describe him right. But does our manager see how screwed up the system is? No. "How could you all fail the mystery shops?" We're like, well when we see Rick we'll ask him why he failed.

Oh, and let's not forget the "lamp lady." This lady comes in and asks me who the lamp specialist is. "Well, I guess that's me since lamps are in my department" and then she starts asking me thousands of questions. She shoves some paper she printed from online in my face for a millisecond and then asks me which lamp that was. "I don't know, can I see the paper?" I just showed it to you! she says. Yeah, okay. I try to help her with the limited information I know from what the boxes say. She says "Is that all you know is whats on the boxes?" Yeah. She continues on telling me she's looking for a 3-watt incadescent lamp or something of that sort. "Maam, I can't say for sure but I don't think they make 3 watt incadescent lamps, I've never heard of those before" She asks to speak to someone more knowledgeable about the lamps and I said you are speaking to the one most knowledgeable about the lamps that is in the store right now. "Well, can I speak to the manager of the lamp department?" Umm...we have a general manager. No, I want to speak to the head of the lamp department. "You can't because there is no lamp department here" After this continues on for about 45 minutes she leaves. Yes, I stayed with her for 45 minutes because it was listen to her be an idiot or organize binders...