​
Here are the Media Create sales figures for Week #5 2018: [prebreak]1[/prebreak]
<div style="width: 100%; overflow-x: auto; white-space: nowrap;"><table><tr><th>Position</th><th>Platform</th><th>Title</th><th>Genre</th><th>Publisher</th><th>Release date</th><th>Price</th><th>Weekly Sales</th><th>Total Sales</th><th>Difference</th></tr><tr><td>01 (01<span style="color:#00F">&#x25AC;</span>)</td><td>PS4</td><td>Monster Hunter: World</td><td>ACT</td><td>Capcom</td><td>2018.01.26</td><td>¥8.980</td><td style="text-align:right;">346.187</td><td style="text-align:right;">1.591.356</td><td><span style="color:#800">-72%</span></td></tr><tr><td>02 (NEW)</td><td>PS4</td><td>Dragon Ball FighterZ</td><td>FTG</td><td>Bandai Namco Games</td><td>2018.02.01</td><td>¥7.600</td><td style="text-align:right;">68.731</td><td style="text-align:right;">NEW</td><td> </td></tr><tr><td>03 (03<span style="color:#00F">&#x25AC;</span>)</td><td>NSW</td><td>Splatoon 2</td><td>ACT</td><td>Nintendo</td><td>2017.07.21</td><td>¥5.980</td><td style="text-align:right;">25.758</td><td style="text-align:right;">1.997.568</td><td><span style="color:#080">+0%</span></td></tr><tr><td>04 (02<span style="color:#800">&#x25BC;</span>)</td><td>NSW</td><td>Mario + Rabbids: Kingdom Battle</td><td>SLG</td><td>Nintendo</td><td>2018.01.18</td><td>¥5.980</td><td style="text-align:right;">21.279</td><td style="text-align:right;">114.059</td><td><span style="color:#800">-18%</span></td></tr><tr><td>05 (04<span style="color:#800">&#x25BC;</span>)</td><td>NSW</td><td>Mario Kart 8 Deluxe</td><td>RCE</td><td>Nintendo</td><td>2017.04.28</td><td>¥5.980</td><td style="text-align:right;">21.263</td><td style="text-align:right;">1.307.897</td><td><span style="color:#800">-3%</span></td></tr><tr><td>06 (05<span style="color:#800">&#x25BC;</span>)</td><td>NSW</td><td>Super Mario Odyssey</td><td>ACT</td><td>Nintendo</td><td>2017.10.27</td><td>¥5.980</td><td style="text-align:right;">15.978</td><td style="text-align:right;">1.587.954</td><td><span style="color:#800">-4%</span></td></tr><tr><td>07 (NEW)</td><td>NSW</td><td>The Elder Scrolls V: Skyrim</td><td>RPG</td><td>Bethesda Softworks</td><td>2018.02.01</td><td>¥6.980</td><td style="text-align:right;">13.922</td><td style="text-align:right;">NEW</td><td> </td></tr><tr><td>08 (07<span style="color:#800">&#x25BC;</span>)</td><td>NSW</td><td>The Legend of Zelda: Breath of the Wild</td><td>ADV</td><td>Nintendo</td><td>2017.03.03</td><td>¥6.980</td><td style="text-align:right;">12.709</td><td style="text-align:right;">847.677</td><td><span style="color:#080">+24%</span></td></tr><tr><td>09 (06<span style="color:#800">&#x25BC;</span>)</td><td>3DS</td><td>Pokemon Ultra Sun / Ultra Moon</td><td>RPG</td><td>Pokemon Co.</td><td>2017.11.17</td><td>¥4.980</td><td style="text-align:right;">11.028</td><td style="text-align:right;">1.539.029</td><td><span style="color:#800">-13%</span></td></tr><tr><td>10 (11<span style="color:#080">&#x25B2;</span>)</td><td>3DS</td><td>Mario Party: The Top 100</td><td>ETC</td><td>Nintendo</td><td>2017.12.28</td><td>¥4.980</td><td style="text-align:right;">7.037</td><td style="text-align:right;">149.345</td><td><span style="color:#080">+8%</span></td></tr><tr><td>11 (09<span style="color:#800">&#x25BC;</span>)</td><td>3DS</td><td>Yo-kai Watch Busters 2: Hihou Legend Banbarayaa - Sword / Magnum</td><td>ACT</td><td>Level 5</td><td>2017.12.16</td><td>¥4.800</td><td style="text-align:right;">6.053</td><td style="text-align:right;">496.905</td><td><span style="color:#800">-22%</span></td></tr><tr><td>12 (14<span style="color:#080">&#x25B2;</span>)</td><td>NSW</td><td>Arms</td><td>FTG</td><td>Nintendo</td><td>2017.06.16</td><td>¥5.980</td><td style="text-align:right;">4.453</td><td style="text-align:right;">360.484</td><td><span style="color:#080">+1%</span></td></tr><tr><td>13 (15<span style="color:#080">&#x25B2;</span>)</td><td>NSW</td><td>1-2-Switch</td><td>ETC</td><td>Nintendo</td><td>2017.03.03</td><td>¥4.980</td><td style="text-align:right;">4.391</td><td style="text-align:right;">391.086</td><td><span style="color:#080">+0%</span></td></tr><tr><td>14 (N/A)</td><td>NSW</td><td>Dragon Ball: Xenoverse 2 for Nintendo Switch</td><td>FTG</td><td>Bandai Namco Games</td><td>2017.09.07</td><td>¥6.800</td><td style="text-align:right;">3.767</td><td style="text-align:right;">110.217</td><td> </td></tr><tr><td>15 (13<span style="color:#800">&#x25BC;</span>)</td><td>NSW</td><td>Pokken Tournament DX</td><td>FTG</td><td>Pokemon Co.</td><td>2017.09.22</td><td>¥5.980</td><td style="text-align:right;">3.731</td><td style="text-align:right;">218.461</td><td><span style="color:#800">-22%</span></td></tr><tr><td>16 (08<span style="color:#800">&#x25BC;</span>)</td><td>PS4</td><td>Dissidia: Final Fantasy NT</td><td>ACT</td><td>Square Enix</td><td>2018.01.11</td><td>¥7.800</td><td style="text-align:right;">3.691</td><td style="text-align:right;">137.791</td><td><span style="color:#800">-54%</span></td></tr><tr><td>17 (16<span style="color:#800">&#x25BC;</span>)</td><td>PS4</td><td>Call of Duty: WWII</td><td>ACT</td><td>Sony Interactive Entertainment</td><td>2017.11.03</td><td>¥7.900</td><td style="text-align:right;">3.363</td><td style="text-align:right;">382.650</td><td><span style="color:#800">-20%</span></td></tr><tr><td>18 (20<span style="color:#080">&#x25B2;</span>)</td><td>NSW</td><td>Monster Hunter Double Cross: Nintendo Switch Ver.</td><td>ACT</td><td>Capcom</td><td>2017.08.25</td><td>¥5.800</td><td style="text-align:right;">3.180</td><td style="text-align:right;">211.119</td><td><span style="color:#080">+1%</span></td></tr><tr><td>19 (23<span style="color:#080">&#x25B2;</span>)</td><td>NSW</td><td>Xenoblade Chronicles 2</td><td>RPG</td><td>Nintendo</td><td>2017.12.01</td><td>¥7.980</td><td style="text-align:right;">3.158</td><td style="text-align:right;">181.254</td><td> </td></tr><tr><td>20 (21<span style="color:#080">&#x25B2;</span>)</td><td>3DS</td><td>Animal Crossing: New Leaf - Welcome amiibo</td><td>ETC</td><td>Nintendo</td><td>2016.11.23</td><td>¥2.700</td><td style="text-align:right;">2.775</td><td style="text-align:right;">371.535</td><td> </td></tr></table></div>
Hardware
<div style="width: 100%; overflow-x: auto; white-space: nowrap;"><table><tr><th> </th><th>System</th><th>This Week</th><th>Last Week</th><th>Last Year</th><th>YTD</th><th>Last YTD</th><th>LTD</th></tr><tr><td style="background:#094697;"> </td><td>PS4</td><td style="text-align:right;">109.287</td><td style="text-align:right;">140.145</td><td style="text-align:right;">36.378</td><td style="text-align:right;">437.430</td><td style="text-align:right;">244.597</td><td style="text-align:right;">6.329.833</td></tr><tr><td style="background:#FF0000;"> </td><td>NSW</td><td style="text-align:right;">49.165</td><td style="text-align:right;">47.107</td><td style="text-align:right;"></td><td style="text-align:right;">322.805</td><td style="text-align:right;"></td><td style="text-align:right;">3.635.424</td></tr><tr><td style="background:#E7E7E7;"> </td><td>3DS</td><td style="text-align:right;">11.461</td><td style="text-align:right;">11.313</td><td style="text-align:right;">26.101</td><td style="text-align:right;">97.481</td><td style="text-align:right;">200.289</td><td style="text-align:right;">23.920.260</td></tr><tr><td style="background:#474747;"> </td><td>PSV</td><td style="text-align:right;">4.207</td><td style="text-align:right;">3.744</td><td style="text-align:right;">9.626</td><td style="text-align:right;">28.524</td><td style="text-align:right;">79.539</td><td style="text-align:right;">5.816.404</td></tr><tr><td style="background:#40A23F;"> </td><td>XB1</td><td style="text-align:right;">637</td><td style="text-align:right;">1.686</td><td style="text-align:right;">111</td><td style="text-align:right;">4.023</td><td style="text-align:right;">632</td><td style="text-align:right;">92.459</td></tr></table></div>
This week's hardware sales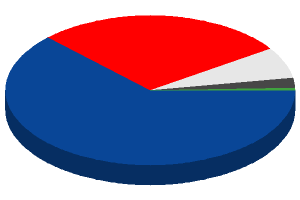 Let's take a look at this week's sales figures with our all-new Media Create format!
As expected,
Monster Hunter World
stays in 1st place with a further 350k units moved, putting the total sales figure close to 1.6million copies sold at retail.
Dragon Ball FighterZ
debuts at number 2, but barely touches 70k. For those of you waging it against Monster Hunter World:
Interestingly Skyrim debuts for Nintendo Switch at #7, and Dissidia Final Fantasy NT continues to plummet down the chart, dropping a cool 16 places since launch in week #2. 16 is also the number of spots Nintendo still hold in the overall top 20, 12 of them being for Switch, further adding fuel to the fact that
the Switch is on fire!
.
As always, these numbers do not include digital sales across all platforms.
Not much to say about hardware, only we see the PS4 keep up its strong momentum moving another 110k systems, probably largely due to the launches of Monster Hunter and DBFZ.
Source