Several weeks ago,
we were telling you about a possible leak
on a retailer site announcing the release of a new title "Mass Effect Trilogy Remastered", sold for 60€ on PS4, Xbox One, and 50€ on the Nintendo Switch.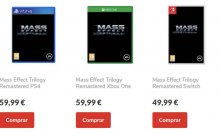 ​
At the time the rumor was quickly dismissed and never heard of again... until recently. Gematsu, a well known japanese video game news site, announces that the title received a rating in South Korea recently, not only confirming the rumor but also promising a release in the near future.
TechSpot said:

As reported by Gematsu today, something called the "Mass Effect Legendary Edition" has been officially rated in Korea.[...]The application for the rating appears to have been sent in on August 1. The rating process didn't complete until a little over two weeks later on August 17. Google Translate says the game received a rating of "Youth not available" (청소년이용불가), which we assume is the equivalent of the ESRB's Mature (17+) classification.
Are you excited about this? What would you expect of a remastered Mass Effect trilogy release?
Source at TechSpot