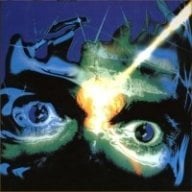 Flashback Fanatic
OP
Member
I remember that someone here once said that he was working at a gaming store where they, every now and then, would
throw away
(!) empty DS-cases because their only purpose was to display what kind of upcoming games visitors soon would be able to pre-order or buy.
Well I'm looking for PSP-cases that are being throwed away for the same (or other various) reason and it would be even better if they even included the right cover for
that
game, but just the case is enough for me.
Why? For my promo copies which I have either been given as a reviewer or purchased simply because they were cheap

My PSP-collection doesn't feel complete without a real casing and the proper cover for that game.
Currently looking for cases (and/or covers) for the following games:
Mega Man Powered Up
Key of Heaven (aka Kingdom of Paradise)
Monster Hunter Freedom
Gretzky NHL
Pursuit Force
Should anyone here have one or more cases, with or without any of the above mentioned covers (or even nothing but the cover), then please contact me and I'll pay you for shipping it here.
Thanks.