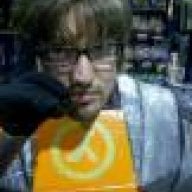 Active Member
OP
Newcomer
Joined

Mar 27, 2012
Messages

34
Trophies

0
Age

35
Location
XP
Country
I am managing save files between two Wiis: one in the bedroom and one in the living room. I have all my emulators set up to save on the SD card and load ROMs from a USB. Both Wiis have USB drives with identically ROM directories, and I have an SD card I'm using like a GameCube memory card in which I have to put it in the Wii I'm playing on. I am doing this so I can play a game in any room while picking up where I left off saving. A better method to this would be using a network to save games, but I don't have a computer to leave running all the time, so that would be more work than it should be.
Anyway, I have forwarders on my living room Wii (FCE, SNES9, VBA, and Wii64) which rely on their homebrew path to load. This means they will not load unless my SD card (which the homebrew is located) is inserted. This also means it will load the emulator settings from the SD card, meaning I will have the same settings on either Wii no matter what. However, I cannot seem to find a GenPlus that will do this. Instead, the WADs I'm finding already have the emulator compiled into it. As a consequence, it loads whether or not my SD card is inserted, and earases the configuration settings when I bring it into the bedroom for some reason, prolly because the compiled WAD version is older than the one I have on my SD card.
In conclusion, I am looking for a GenPlus forwarder that loads the DOL file from the "apps" folder on my SD card, just like the official loaders of FCE, SNES9, and VBA.