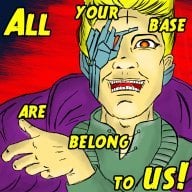 Well-Known Member
OP
Member
Joined

Apr 29, 2014
Messages

298
Trophies

0
Age

40
Website
XP
Country
Hello dear followers,
I just came by to keep you on track with my work.
I've been translating thousands of "intro" sentences for weeks by now, since they're as numerous and random as the NPCs' names (see my previous posts).
So I'm basically writing iterations of a bunch of similar sentences over and over...
That being said, I also progressed with the GUI by discovering that the ranking (which I thought was an unused idea at first) actually shows when you lose.
Fun fact : the game presents you with a list of players' names that is totally independent from the NPC list (even if some names are identical), in order, I believe, to make you think these are the records of real players (or maybe developers).
Fortunately, they're just a few compared to the other list, and while I might change some names in the future, they're already all translated anyway, although people will have to start a fresh savefile, considering the Japanese names are recorded when a file is created, hence the names staying in Japanese if you happen to have saved prior to the translation.
Below are some comparison : notice that I'm using a "face" for the word "traveler" in "carefree traveler" (気ままな旅人) ("free emoji" in English), since I only have two characters, one of them being used by a space... so I don't think I have much choice, but the smiley (which comes from the original font) actually looks good !
The English conversion for "3rd", "2nd" and "1st" was very tricky, since the glow behind the ranks are of different dimensions, meaning I had to make an outline and resize them to correct proportions later. But I think it doesn't really show.
That's all for now, I'll let you know when I'm done with the boring part and can go back the story.
In the meantime, everybody has a good night.
Comparison screenshots: