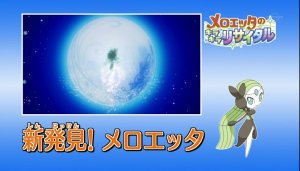 The official Pokémon Movie website has updated with information regarding an upcoming movie short, featuring Meloetta.
The movie short, titled "Meloetta's Sparkling Recital" (メロエッタのキラキラリサイタル in Japanese) is set to air on July 14th, 2012.
This marks the first time two event-only Pokémon are being revealed (and most possibly released) at the same time.
Meloetta is a Normal- and Psychic-type Pokémon that has the ability to transform into a second, normal- and fighting-type forme when using the move Relic Song in battle.
Source