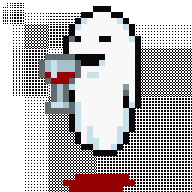 Joined

May 5, 2003
Messages

698
Trophies

0
Age

42
Location
Website
XP
Country
So, having no internet (aside from dial-up) gives me plenty of time on the computer to do other things. One such thing is something I've wanted to do for quite a while now. I backed up all my retail cartridges (unless I already had the rom, otherwise I just dumped it), and their save files. So, I now have a 1GB card (I'll need to get a 2GB eventually, to fit all my purchased games) with most of my retail games, and their saves for my CycloDS.

So, instead of having microSD cards for most of my downloaded games/homebrew, and individual retail carts for my favorites (I always buy my favorite downloaded games), I now have all those purchased games and my saves on one microSD card! NEATO! I used to carry about 5 or so of my favorites around with me in my DS case (things like Tetris DS, Picross DS, Castlevania of choice), and my CycloDS. Now, I just carry two microSD cards.

The extra bonus is, I can use Narin's excellent cheat database with my games now (some of the Pokemon codes are crazy; camera rotation?). And every now and then, I'll just put the save file back onto the retail cart.

Why even bother buying games, you ask? Because I like to support them. I'm perfectly happy to give my money up for the games I feel are worth it. Plus, it's nice to actually have the physical games themselves. You can't really have an impressive collection of roms years down the road, in the same way a room full of systems/games would be. Yea, I'm old.