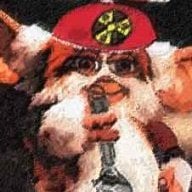 Joined

Apr 10, 2008
Messages

1,171
Trophies

0
Age

31
Location
Website
XP
Country
Hello all my fellow Tempers, this is Gizmo_gal, just writing in to say sorry for the long, sudden hiatus and to explain my situation incase anyone is wondering.
Things have been hectic these past several months.
I was supposed to start classes at the community college in January of 2009 but I missed the deadline for all my paper work and so instead I went back to tech school. This time I'm in the Web Design class. I really love my new class--well, not ActionScript, but the rest of it has been pretty good. Its a self paced class that usually takes anywhere from 9-15 months to complete. I've been pushing myself to finish it by May 29th, because I start college this summer.
Since January 21st, 85% of the time that I spend online has been for school. I check my email and visit language learning sites. I've been trying hard to avoid sites about video games, movies and anime because those are all things that tend to take up all my attention and make it hard for my to concentrate. Actually, I've noticed that since taking this class, I rarely want to be on the internet when I'm home. I'm usually outside studying, in my room studying, working with my siblings who are studying or trying to get some doggone sleep.
Aprils been a really busy month and its starting to throw me off my school work rhythm . We had Spring Break during the first week of April, during which my aunt and baby cousin visited and it rained 5 out of 7 days, so I was trapped in a house with 5 toddlers, and it was a nightmare. There were toys and noise everywhere. The kids had both TV's and my aunt had the Laptop, I could neither eat in peace nor concentrate. I got soaked to the bones that thursday and haven't been well since. I missed monday (the first day of school) The week we went back to school, the weather was beautiful and I couldn't help but be furious that I had to be in class.
I've done about one weeks worth of work since April 10th and thats never going to fly. I'm pushing myself really hard right now and trying my best to focus do well in school but its so tempting to just take it easy and move at a normal pace. Anyway, today I couldn't stand it anymore. I broke down and came to GBATemp.net.
Its a releif to see that so many people are still here and active. I was worried that maybe the place was being taken over by spambots, newbies and trolls.
I really miss this place. May 30th, I'm hoping to break out all my consoles, clean them up, and spend 5 days glued to one screen or another either gaming or browsing the web.
P.S.