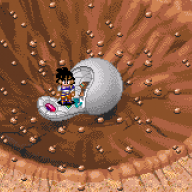 Joined

Jun 2, 2020
Messages

656
Trophies

1
Website
XP
Country
Everybody's Golf (7), not that good overall compared to the PSP ones but it's designed and made for Vita and it shows
That's cool! Thanks for your recommendation. Didn't know there was one for Vita.
if you like pervy games there's akiba's trip undead and undressed and 3 senran kagura games on the vita.
That's cool! I had all the Senran Kagura games already and also the Bullet Girls. But didn't know about this one! Cheers!
Freedom Wars (Best game on the Vita Imo), Shiren the Wanderer, and The Legend of Heroes: Trails of Cold Steel 1 & 2
Sounds great! Will give it a try! Thanks!
Haven't played Vita in a while but i would recommend Soul Sacrifice.
Didn't know this one! Graphics look great! Thanks!
Tearaway, I was amazed at it when it came out, I also played the demo of it at gamestop
Looks funny! Thanks a lot!
Dragon Quest Builders. Even if you're not a fan of Dragon Quest.
I am an avid fan of DQ. And this is already on my list of 60+ games I've downloaded so far! I've played a bit and I liked it! It made me want to try the sequel on Switch!