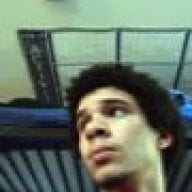 Joined

Nov 2, 2008
Messages

231
Trophies

0
Age

31
Location
XP
Country
Back in November I kinda stopped updating things on my Wii like cIOS's, the backup loaders, etc. because I got myself a PS3. Well, I want to make sure my Wii is up-to-date as far as hacking goes, but I wasn't here for the advancements made that I've heard about (like the Gamecube backup loader, overcoming Error 002, etc.).

So, here's where I'm at now. I've got a Wii, Starfall, 3.2U custom firmware (cIOS 249 I think, I'm going off of memory here), with some Gamma loader that doesn't stop Error 002.

Can someone lemme know what I should look at to bring myself up to date? I'm looking for up-to-date Wii firmwares/loaders/GC loaders. I know what many of you'll think - 'look it up your own damn self' - but after sitting here for months without having done anything Wii-related, that's kind of difficult. If anyone'd be cool enough to help a brother out, that'd just be nifty.

EDIT: I'm thinking of starting over, you know, formatting my Wii and rehacking it completely. Would you suggest that simply so that things'll go easier and I don't have to uninstall shit (in case I do)?