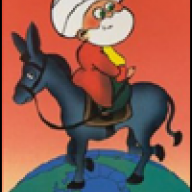 Joined

Dec 18, 2004
Messages

2,904
Trophies

0
Age

34
Location
Website
XP
Country
Watching A.I. recently has made me cry a little and think a whole lot. I've never seen a child so dedicated to his parents, he's not a human of course, because no human child can be like him. He spent an eternity so he can spend 1 day with a clone of his "mother", and I kinda got choked a little bit at that point. Children always disagree with their parents and according to my father, that is one of the driving forces of the man kind. He said the fact that human get caught up with the tiny differences and create wars and conflicts over them is what makes us human civilized at the same time. Darwinian evolution suggest the strongest survives the test of natural selection, and human has become on top. With disagreement comes revolutions and evolution that pushes us forward. We are over 99% the same genetically, yet there is so much conflicts all the time. My father says that fades as you age though... especially when you have a child. He said the kids usually tend to care less about their parents. He told me a story about a man who needed his mother's heart so he won't be killed himself, his mother gladly offered it... the human problem is much too complex for me to understand at this point. A lot of people ask the meaning of life, but I think a greater question is why are we the way we are? How did we develop emotionally and genetically to what we are today?
I don't know why I made this
blog
, but I thought I needed to share it...