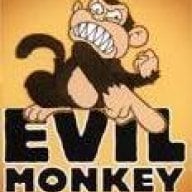 Joined

Nov 1, 2007
Messages

1,770
Trophies

0
Location
XP
Country
I'd love some information on how to go about this idea before I waste any time on this, as my time is very, very short at the moment.
My problem:
One of my kids is really into anything Sims, and so far all the games seem to be around the 127 ish block size and she has a few.
Now I am constantly moving saves for her etc, and it is a real pita.
Seriously this is one of the worst things for the Wii imho the lack of space and lack of the saves to a memory card. Back in the day of GC we just replaced the mem card and it was easy, but not now.
Now I have a couple of Wiis, but hers is a nightmare because she likes SSBB, Eledees and Sims games, every game she ever wants has 127+ blocks for a save, shes changes her mind what she wants to play a few times daily so I'm thinking it would be better to just try to find a solution because it gets worse every time she gets a new game. (hmmm why do Nintendo have all these large save games as no copy ? , thank god we have homebrew)
Possible solutions:
Could a loader be edited to "on the fly" enable saving to SD when booting ?
This would mean though, that the instructions would need held in memory the whole time a game is played.
I think something like this would be best, but maybe it's not possible, is it possible in theory ?
Another possible solution, although this may not be any good in practice would be a copy/move ALL feature. I think this would be easier, and even think I could start on sometihng like this myself, but it wouldn't be as handy or easy for a kid to use. So I'm not really considering this until I've read up and had a few replies at least.
Another idea, is to patch the sys menu, I hate this idea myself, but it maybe the easiest route.
So I'm not asking for someone to make this, just thinking maybe someone here knows a lot about how the saves are handled, or maybe even someone is already working on a solution to this problem. I think this is a worthy adventure, but my time is extremely limited these days due to personal things. I've looked for info, but come up blank so far

So can it be done on the fly when booting a game to route to the SD or a USB pendrive etc?
Is there anyone working on this currently ?
Is this a good idea in you peoples opinions ?
Is there any information already online relating to this to save me starting from scratch ?
Any help, answers or opinions greatly appreciated.