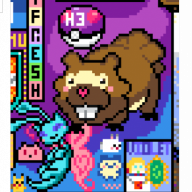 Active Member
OP
Newcomer
Hi there.
I have a replication Soul Silver cart that I am trying to extract the save data from so I can play it on a legitimate cart. Unfortunately, GM9 doesn't even identify a .sav file to extract, and checkpoint can't get it either. The game has issues at bootup, too. If I click continue on my modded 3ds or modded new 3ds, the game crashes. To play the game I have to select new game, mash through the
tutorial
until I can walk, then soft reset and then I can click continue- I wonder if the issue with bootup is also causing the programs to not read it properly. The save file data is in the cartridge somewhere, however, as I can still play my 300 hour file. I am hoping to do a RAM dump of the cart, then use a tool like Poke J's PKX Extractor to extract the .sav from the RAM.
So, can anyone let me know how to do a RAM dump of a ds cartridge? Unfortunately TwilightMenu++ only allows you to do RAM dumps from games loaded from an SD, not games loaded from a cartridge. Or, does anyone have any other suggestions on other ways to move forward on extracting my save?