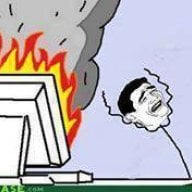 Joined

Aug 3, 2017
Messages

8
Trophies

0
Age

27
XP
Country
Hello, guys, im a noob, so please be patient to me.

I've got a hacked switch, so, I was using Tinfoil to download some games, when I clicked on one of the games to download, at the same time some box popped on my screen and selected whatever was on screen, I literally got no time to see what happen, since it literally happened at same time, im not that dumb, i know i cant update and so on, but it happened in an absurd way. The only thing I know is that the system just reboot and I cant acess my games, it "unhacked" itself, i dont know if I hit somehow the update button or reboot button, the only thing i know is just that it somehow is not hacked anymore.

My bf have hacked it before, this isnt the issue. The problem is that we cant/dont know how to backup or retrieve the save files, the last time he had to re-hack the console he lost all the save files, and I dont want it to happen again, since he got 60 hours on fire emblem and 20 hours on pokemon. I guess the archives are corrupted, or, if not, why the heck aint reading in when I plug (sd card) right straight on my pc or when I connect the switch to my pc trought a cable. Is there any software for it?

Please, I really need to keep those save files, help me save them so he can finish his game, i know its kinda stupid, but he have been working too much, and these games are his scape throught this stressful period.

The only game that show something else is pokemon, asking to check its archives after corrupted files, the other ones do not open at all, go straight to a screen saying ive got a error.