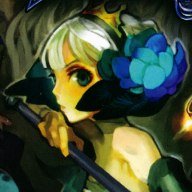 The Dark Souls of GBAtemp
Member
Joined

Feb 13, 2012
Messages

6,359
Trophies

1
Age

32
Location
Website
XP
Country
You guys just don't get it, no one is expecting MK to be Gran Turismo. MK is supposed to be mindless fun, the blue shells make it FRUSTRATING, ruining the FUN, it's still an easy game (against the AI at least) but that's not the point.

How is that so hard to comprehend? I understand you (and other people with similar comments) don't feel that way but the least you guys could do is understand my (and others) point of view before mocking us.

This isn't directed solely at you by the way.
Meant to be a fun racer, blue shells ruin that fun. It's no fun getting blue shelled over and over just because you are better than the other players. If it only spawned occasionally it wouldn't be so bad, but it's far too common. It's pretty much if you are in first, you are going to get blue shelled. Not a case of if, but when. Only so many times you can get hit just before the finish, before it just sucks the fun out the game. They could at least make it so it only spawns on laps 1 & 2, so you have a chance to recover.

I was playing online earlier, I took two blue shells. So because I've managed to escape the pack, my reward is too get whacked twice by a weapon that requires a huge amount of luck to dodge (having mushroom at the right time).
This and this. I don't see why it's so hard to understand. I'm not saying Mario Kart should be F-Zero, just that it should tweak the one thing that's absolutely annoying and breaks the game for many people, myself included.
The one other thing I forgot to mention was the post-hit invincibility. In MK64, you were invincible for a moment after getting hit. Whereas in MK7, you get hit by one shell/attack, and if you have bad luck, you get spammed by like 3 or 4 attacks within seconds of each other, turning your half-lap lead into 6th place, which is ridiculous.
So yeah, tweak the blue shells, and post-hit invincibility. I don't see how that's demanding Mario Kart to be a "balanced" hardcore racer, considering there are so many other things that are "unbalanced" about it that I and others don't want changed.