Being one of the major flashcart & homebrew related websites on the web, it is somehow our responsibility to alert our readers of potential fakes and hoaxes. Recently we've stumbled upon a few especially with the release of the 3DS. DS flashcarts have been around for ages, and those carts have recently been updated to function on the Nintendo 3DS console.
However, at the time of writing this article,
there is no such thing as a 3DS flashcart
. No flashcart is capable of running or exploiting Nintendo 3DS content of any form. That is why we have to warn you about ill-intentioned sellers presenting regular NDS flashcarts as Nintendo 3DS flashcarts. The reality is that the cards they are selling are just regular DS carts that function on the 3DS. With such flashcarts you will only be able to run DS content (DS homebrew & games).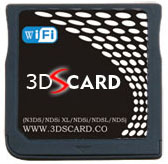 Among those resellers, one of them particularly stands out:
http://www.3dscard.co/
. Some of our members reportedly received emails from them, advertising
the ultimate 1st generation Nintendo 3DS Card - 100% Compatible with the Nintendo 3DS!
. This is obviously a hoax. The card is a simple
$2 R4 card
rebranded as "3DScard" to attract naive customers... and sold for no less than $24.95.
Be warned: what you'll get by purchasing this cart is a simple R4 DS functioning (if you're lucky) on the 3DS, but with no 3DS game or homebrew support whatsoever. You can find similar, original cards for less than $10.