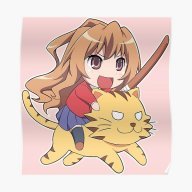 Well-Known Member
Newcomer
Joined

Aug 23, 2020
Messages

57
Trophies

0
XP
Country
Hello! I'm trying to play 3852 - Majo ni Naru (Japan) because it seems like such a cute game and good for Japanese practise, but I've been having trouble with it. There is a bad dump of the game out there, but this seems unrelated (the issues also exist in the English version, 4980 - Witch's Wish).
On DeSmuME, the screen and shadows blink, making it pretty unplayable. I also tried it on two flashcards, one using YsMenu and one moonshell, but both have a problem where the sound seems to bug out at random points- see video. This isn't unplayable, but it's a huge shame to have to mute a game with voice acting when the whole point of playing is language accquistion.
Does anyone know how to fix this? Or if there's somewhere else I should be reporting this issue?
I've been messing around with this game for days now with no luck (even bought the second card to see if that was the issue), so I'd really appreciate the advice. Would buy the original if I could but shipping from Japan to where I live is criminal

Thank you!!!