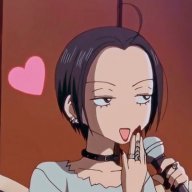 Joined

Sep 3, 2021
Messages

11
Trophies

0
Age

20
XP
Country
just found out about introductions!
i'm ana, i'm 18 and i'm from panamá
i've recently been getting more into nintendo games and i've decided to record my experience here. i found this website while looking for help with emulating a few days ago but i really liked it here so i'm staying for a while
i grew up with ds and wii but i don't remember playing much outside of games like my littlest pet shop and and petz dogz 2. i mainly watched my older brother play the real games and just got used to watching instead of playing (which i still very much like doing).
i got my own switch in like 2017 and played my first "real" game by myself which was of course breath of the wild and now im addicted to nintendo games (seriously my switch hours are very embarrassing it's why i don't really give out my friend code).
now ive played all tloz games on the switch and bought a 2DS during quarantine to play the older titles. gonna take advantage of this and play some pokemon games because i also remember playing some of those growing up and maybe i'll try the metroid series when i'm done because i'm very excited for dread even though i literally found out about the metroid franchise this year.
ive also been thinking about buying a ps5 but its really way out of my budget and im going to college soon so its not like ill be able to use it much anyway. still i wanted to play the ff7 remake, spiderman miles morales and the new ratchet and clank games. also persona 5 royal which im really hoping that it comes to the switch one day. (i am also hoping for mario sunshine 2, a girl can dream).
but enough about video games more about me.
im starting college in spring 2022 gonna major in aerospace engineer. i was a competitive ballet dancer but now i mostly like to play football flag. my latest hobby is making bracelets for my friends and i'm learning how to cook and how to code (which im very very bad at). i have 2 fluffy white dogs but they're very cute and not crusty at all and i really like the color pink. i also got into anime lately i really like the new gen shonen series like demon slayer and jujutsu kaisen but my favorite animes are dorohedoro and nana.
see ya