When using Google's mobile keyboard input for Japanese and you write nabe
鍋
or ka
過
they'll display with the font of Simplified Chinese (if I understand it correctly). That's pretty annoying.
When you look at Wiktionary, you'll see many different variations, these are all the same character if you copy and paste them, but they display differently: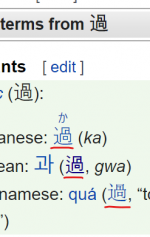 You'll notice the Korean one has two dots, while Chinese and Japanese has one. But look at the top right, and you'll see the Japanese has the little square to the right side, while the Chinese has it on the left side.
So, Writing in Japanese with the Google Keyboard, it will suggest the Chinese version (with the square to the left), but will in google results show it on the right when it has been entered.
And in the Facebook messenger app it will show the Chinese version, but show the Japanese version on desktop.
I've even encountered that it want to write some kanji like the Korean one in the image, with two dots instead of one, due to font differences.
Have anyone encountered similar things?