glitchDS v1.3
Cellular automation music sequencer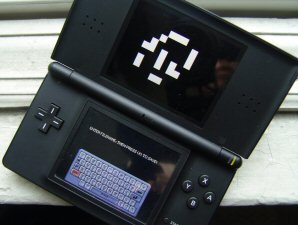 glitchDS is a cellular automation music sequencer for DS. Download and changelog below.
1) Volume control of each sound. Volume parameters are saved along with your snapshot.

2) I added a "pad play" page — which is of questionable value — but it was easy to add. If there are too many sounds playing at once, glitchDS might ignore your incessant tapping. However, if you stop the sequencer, you should be able to play these like drums.

3) Quickly save new versions of snapshots: This is easiest to explain with an example. If you select a snapshot named "Bevis" and hit the Right directional button, a new snapshot named Bevis.1 will be saved with your current settings. If you select Bevis.1 and hit
, a new snapshot, "Bevis.2? will be saved. nitro2k01 suggested this new feature and even programmed it for me! Thanks nitro2k01!

4) On the Trigger and Frequency Modulation pages, when you select a swatch, the filename will be displayed at the bottom of the screen.

5) Loading snapshots works the same as before if the sequencer is stopped. If the sequencer is running, loading a snapshot "queues" it for loading. The snapshot will load after the sequencer is completed with its current cycle. Usually this transition is smooth, but sometimes it produces small digital "artifacts" if the sequences are significantly different.

Download

Developer Blog