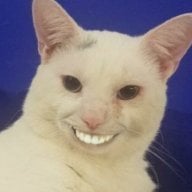 Joined

Jan 18, 2009
Messages

1,375
Trophies

0
Age

29
Website
XP
Country
Yes, there is a time in every 'Temper's life where they must don the "Red-and-Yellow Ribbon of the Millenary" and be recognized for their landmark commitment to the community we all know and love. And today is that day for me.
Now, I know that this is really nothing to get too excited about. After all, proliferation and quantity of posts does not necessarily a good 'Temper make. But it is, in fact, the quality.
And to different 'Tempers, "Quality" could have a vastly diverse meaning. To some, it may mean pointing new members in the right direction. To others, it alludes brightening our forum with encouraging, informative, and jocular posts. Still others may see it as a means to work diligently, to contribute their own work to our rich and vast homebrew community. All of these are wonderful reasons to be a 'Temper. For without you, this forum would be but a dank, empty wasteland, home only to a lonely moderating team (which are most definitely just as notable, by the way

).
So on this landmark day in Geoflcl history, the acknowledgement goes to not myself for my paltry achievement, but to my wonderful forum-going colleagues. I would like to humbly and wholeheartedly thank each and every one of you for making this forum one so distinct and unique, so enjoyable, so informative, and
so darn awesome
. Here's to the 'Temp, and a to millenia more posts from each of us!

PS: Gracias to Protokun for the heads-up about the Ribbon color. I guess I'm colorblind?