GBAtemp Recommends! Tactics Ogre: The Knight of Lodis
G.R. Issue #14 (GBA)

Some people complained about last weeks choice but the beauty of this feature is that there is a new recommendation every week. I think some people will be for this weeks choice.
Welcome to the fourteenth issue of GBAtemp Recommends! - a weekly magazine feature in which we share our favourite Game Boy Advance titles. The games we recommend may be top titles from the GBA library, a homebrew, or they may be sleeper hits that flew by the radar, but one thing's certain, they're all fantastic games that deserve your play time!
GBAtemp Recommends!
Tactics Ogre: The Knight of Lodis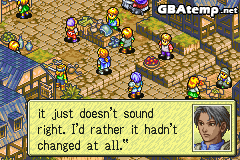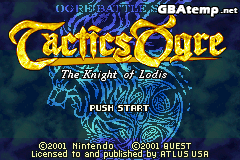 Screw Final Fantasy Tactics Advance, this is the real GBA Tactic classic. Its a party based tactical combat on a isometric view that the series has endured, and it is all still menu based. If you've played these sort of games before, you pretty much know what to expect, only this is better than most of them.

The game is an extremely deep and fulfilling, with an extremely rich story with plenty of twists and turns to keep you hooked during the 40 odd hour game. Graphically it is very good, rich colours, brilliantly animated characters and maps that fit the game so well. Static screenshots don't do this game any justice, it needs to be seen on a GBA or top screen of the DS.

There are a couple of problems with this that stop this from being a perfect game. The sounds & music are just really really plain and average, absolutely nothing to write home about at all. Also some of the battles last for ages! At one point I had one going for about 40 minutes, can't say I've ever had that in a Tactic game before. So lets just say its not a game you can pick up and play for short sessions.

Still saying that this is a very well realised, deep, fun and exciting turn based strategy title that is essential for the GBA gamer.
Game Synopsis said:

Assume the role of Alphonse, a knight of Galicia, sent on a mission to investigate the intentions of the suspect governing body of the Holy Lodis Empire and solve the mystery of Ovis. Along the way, you will experience many trials and tribulations, but you must survive the unrelenting battles and cultivate your characters' abilities to reveal your true destiny.

#0432 - Tactics Ogre: The Knight of Lodis (Mode-7)

Genre:

Turn-Based Strategy

Developer:

Quest

Publisher:

Atlus

Dump Date:

10/05/2002

ROM Size:

64 Mbits

If you enjoyed this weeks edition of GBAtemp Recommends! please leave a comment in the thread. This helps us monitor feedback and ensures we keep posting these magazine articles in the future.

View in G-Online

Game Profile at IGN

Official GBAtemp Recommends! Mini-Page & History

Discuss