Joined

Oct 24, 2002
Messages

11,420
Trophies

2
Age

37
Location
Website
XP
Country

GBAtemp Recommends! Densetsu no Starfy (series)
G.R. Issue #19 (GBA)

Sorry for the delay in this issue, but here we are! This is GBAtemp Recommends! Our popular weekly magazine feature in which we, the GBAtemp staff, recommend classic Game Boy Advance titles!
GBAtemp Recommends!
Densetsu no Starfy (series)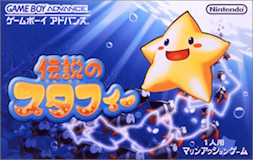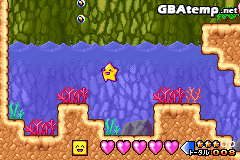 Stafi, Starfi, Starfy... Whatever you call him, Nintendo has recently announced that they plan to localise the Nintendo DS game 'Densetsu no Stafi: Taiketsu! Dairu Kaizokudan' (DS ROM #2444) for Western players. It will be the first Starfy game to be localised, and it's about time! (The game is released June 8th in the States). So I thought, what better game to recommend this week, than the titles that made this character a star? Pun intended, of course.

The Legendary Starfy games (3 released for Game Boy Advance) are action platformer games at heart, and share quite a few similarities to the Kirby series - just with more diving and swimming and less sucking and blowing (no pun intended.... this time!). Starfy is quite literally a star who, after a ruckus in the clouds, has fallen from the heavens and into the sea, alongside the evil Ogura who was sealed in side a magic jar. After meeting some new buddies who help you get started, you must make your way through the various levels by running, jumping, swimming and spin-attacking enemies. You'll pick up new moves and attacks as you progress, but of course it's not just a case of running from left to right, as there are lots of obstacles and puzzles to over come, along with several mini games that will keep you entertained. A boss also looms at the end of most levels, which are often quite fun and challenging.

The levels are quite varied in design and appearance, with different pleasant looking areas and locales. The game controls extremely tightly and smoothly, allowing you to pull off all sorts of fancy swimming and jumps and the music and sound effects are just as enjoyable as the bright and cheerful characters and levels. One thing I should mention however; is that there is a fair amount of Japanese text in the game. Although you should be able to make your way through the majority of the game(s) without much trouble, there may be a couple of instances where you may have to resort to a walkthrough to progress.

The Starfy games are fine examples of platforming action on the GBA, and should be enjoyed by any fan of the genre. The game is cheerful and entertaining and a joy to play. When the DS title (which unfortunately I felt was disappointing compared to the GBA games) is localised, hopefully more people will pick up and enjoy this series. But for now, this issue of GBAtemp Recommends! will have to do!
Game Synopsis for the new localised DS Title said:

In the beginning, the protagonist known as Starfy, was moving things around his home, Tenkai Palace, until he tripped and dropped some things he was moving. One of them fell into the ocean, which was the Magic Jar, an object that seals the antagonist of the game known as Ogura. Meanwhile, a very severe thunderstorm with two tornadoes shook Starfy out of his home into the ocean. Later, Grandfather Rob encountered Starfy, and told him about the Magic Jar and Ogura, while he helped Starfy get back home, by making him do some swimming lessons, as well as giving directions. While Starfy was heading back home, he encountered some people he didn't know before, such as Kyorosuke, and decided to help them with their problems, like finding their missing items, defeating enemies, and so on, until Starfy and his friends fought and brought back Ogura into the Magic Jar to restore peace.

#0579 - Densetsu no Stafy (Eurasia)

#1143 - Densetsu no Stafy 2 (Eurasia)

#1609 - Densetsu no Stafy 3 (Caravan)

Genre:

Platformer, Action

Publisher:

Nintendo

Dump Date:

06/09/2002, 04/09/2003, 05/08/2004

ROM Size:

64Mbit, 128Mbit, 128Mbit

If you enjoyed this weeks edition of GBAtemp Recommends! please leave a comment in the thread. This helps us monitor feedback and ensures we keep posting these magazine articles in the future.

View in G-Online

Game Profile at Wikipedia

Official GBAtemp Recommends! Mini-Page & History

Discuss (%nbreplies% comments)