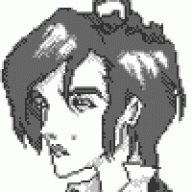 Well-Known Member
OP
Newcomer
Hey, all. I have an AGS-101 with an after-market housing. I kept the original buttons, however. The I've opened this thing up and reassembled it probably about 5 times now, just troubleshooting different issues, like the hinges, cleaning dust off the screen, etc.

1 out of these 5 times, when I reassembled everything, the L button worked perfectly for days. But now, it seems no matter what I do, it just doesn't want to work 100% of the time. I can sometimes get it to work pressing the button at certain angles. It clicks ok and everything, the spring is in place correctly, and like the title says, it works fine for the first 10 minutes, then starts being funny, which is the weird thing. It's almost like once everything settles into place, it's kind of missing the mark.

Another thing I've noticed is that it almost seems like the housing isn't completely closing correctly, like it's caught on something on some of my attempts... Maybe 3 out of the 5 sessions, it seemed almost like the innards want to bust out of the shell, like it's difficult to screw everything in, which makes me think that maybe the button isn't quite pressing the contact because something is misaligned.

Thoughts?