EZ-Flash V kernel 1.70
Auto-DLDI patching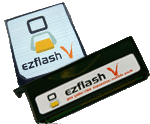 An update to the EZ-Flash V kernel. New in this version is auto-DLDI patching and an updated cheat engine.
Make sure to follow the bootstrap upgrade procedure below before updating if coming from a firmware older than 1.68.
Download, changelog, and bootstrap upgrade instructions below. Nod to ccosmos for the tip.
[title:Changelog]1. Add auto DLDI patching
2. Modified the cheat engine
3. Fixed the white screen after txt reading
4. resetsp.bin updated to 1981, fixed 1960 1978
Notice: this version kernel also included the bootstrap loader updater, if you never updated to 1.68 before. please read the instruction below before you update this kernel.
[title:Bootstrap Loader Upgrade Instructions]Don't extract the EZ5SYS.BIN in the 1.68 package to your MicroSD root folder unless you already meet the condition 1 and 2
1. Your EZ5 cart must already updated to boot from EZ5SYS.bin. if you used the EZ5SYS.bin rename to EZ5UPLDR.bin update before. please update the smaller EZ5UPLDR.bin in the 1.68 package. the bootstrap loader update will not start unless the cart use the EZ5SYS.bin boot method.
2. Charge your DS power to full, connected with a charger will be better.
3. After you meet the above two conditions, extract the EZ5SYS.bin to your MicroSD root folder, put MicroSD into EZ5, EZ5 into DS, power up EZ5 as usual, the upgrade process will automatic start check the bootstrap loader version and upgrade. the process cost 3-5 seconds, Don't power off warning will displayed on the screen. power off DS while upgrade in the processing will cause your EZ5 cart bricked permanently. EZ5 will boot in desktop after upgrade. you can safe power off your DS now.
4. to verify the bootstrap loader version. just check the EZ5 boot menu by boot up EZ5 while R key pressed.
Black BG and big white font means older version, deepblue BG and small white font means new version.
5. Upgrade prcess only show one time, once you upgraded sucessful, it never show up again. please use 1.68 kernel as usual. even rename it and flash it to chip will be ok.

Download kernel/loader

Source