The Process is simple:
Put a Picture of your "unconscious" Device (no Matter what Kind) into your Answer and tell us what is happened.
I volunteer and make the first Try: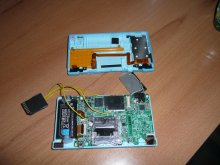 A Nintendo DSi,previously modded with Unlaunch/TWiLight Menu.
After removing Unlaunch (which is claimed "totally safe") for Proof/Test Purpose I had a Brick.
The Hardmod did not worked,so it is still "unconscious"
Previous Episode(s):
https://gbatemp.net/threads/experiment-time-episode-1-the-time-portal.575299/