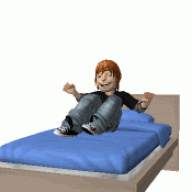 Well-Known Member
OP
Member
EDIT: JAPANESE TO ENGLISH. Sorry about the mistake
I've been really getting into several Japanese games utilizing translation patches I've discovered at gbatemp (i.e. Soma Bringer and Jump Ult Stars). But, there are still many Japanese games with no English patches available. So, I've been checking out several internet resources that various tempers have mentioned before. But, I ran across an interesting little article a few days ago that has already helped me understand a couple games I've always wanted to play. The article also has some links to other helpful resources. I've never seen or heard this mentioned before here, so I thought I'd share it:
http://www.bardinelli.com/blog/?p=46
It is pretty simplistic, but it may be just what you need to be able to play doki doki majo shinpan, like you've been dying to!
Also, I'd like to hear the opinion of all you Japanese/English "bi"s out there!....... (get your mind out of the gutter, I meant "Bilingual"s). Is this pretty accurate? Do you think it could be helpful for us dumb Americans that want to play Japanese games?
EDIT: MR. MODERATOR, could you please change the title from JAPANESE TO ENGLISH