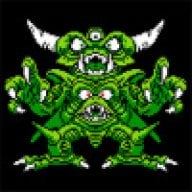 Narcistic Deathfisaro Fan
OP
Member
Joined

Mar 16, 2007
Messages

2,052
Trophies

0
Age

36
Location
Website
XP
Country
-EA challenges MGS4
Plenty of reference to make it obvious enough for anyone. I found it very amusing.
Battlefield Bad Company innately has good dose of humour I guess (perhaps there's a hint in the title?

)
I don't know though, Lucas Arts betrayed PC gamers and now Battlefield betrays PC gamers.
Maybe more people will buy consoles now but that's not necessarily positive if all they're gonna do is whine about how expensive machines run Battlefield at crap resolution and graphics.
Too many so-called "PC gamers" use games as a way to show off their machines instead of playing games to have fun.
(And hypnotises self into believing his gonna-be-obsolete-in-two-years-anyway machine is a better investment than a Civic)
-MS takes action
According to gameindustry.biz, a "reliable source" from Microsoft has stated that there'll be price drop on 360 in an attempt to slow down soaring PS3 sales since MGS4 launch. In addition to price drop, a 60GB HDD mounted 360 will be revealed.
Is that going to be like 6th SKU (excluding limited editions)? And the chipsets are like 90nm, Zephyr, Falcon, Jasper... Damn whoever coming up with all these variations must be getting a raise.
If they drop a lot, I might buy an extra 360 for HDMI connection and sell current one or rent it to my girlfriend or something.
P.S. So Nintendo is going like "WHAT? MGS4 AND PS3 ARE SELLING LIKE CRAZY? *looks at figures* Pffft, that's nothing let them try." ?
P.S.2. I don't really get this MGS4 thing, "stealth action adventure" seems like a heavily hit-or-miss kind of genre. I know it's a miss for me..