DSLife v3.5
Support for life 1.06 format, erase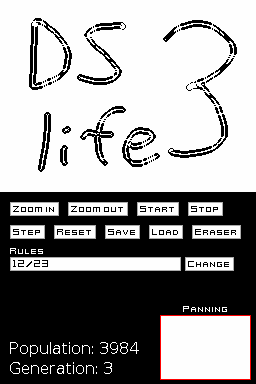 Update to Jeremysr's cellular automation game. New in this version is support for the life 1.06 format, and the ability to erase tiles with the stylus. Download and full changelog below.
QUOTE said:

* Save and load patterns in the life 1.06 format. (Comes with 2 patterns.)
* Lets you erase tiles by pressing an eraser button and then erasing with the stylus.
* The keyboard for entering rules now only includes valid rules characters: digits 0 through 8 and slash.
* Bottom screen shows the current number of live cells (as well as the current generation).
* Source code is liscensed under the GNU GPL.

Download

Project Homepage