Joined

Oct 24, 2002
Messages

11,418
Trophies

2
Age

37
Location
Website
XP
Country
GBAtemp.net review of the...
DS-Xtreme


Manufactured by: DS-X

(aka. DS-X, DS Xtreme, DS-Xtreme, DS Extreme, DS-Extreme)

By shaunj66 - 16th October 2006
Edited by Costello to include firmware update 1.0.2 on November 10th.

Review updated (11th Jan 08) Please read the re-evaluation



Introduction



Welcome to this XTREMELY (OK, I promise that's the first and last use of that pun) anticipated review, right here at GBAtemp.net - the best source for GBA and NDS hardware reviews.

This is a full review of the DS-Xtreme. The new DS slot (slot 1) loading flash kit device from DS-X. Just to re-cap; these "new generation" flash kits run entirely from the DS slot and don't require any hardware in the GBA slot at all.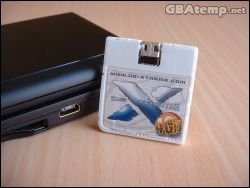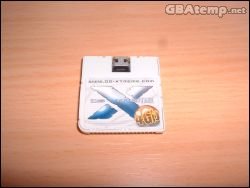 The DS-Xtreme was first announced on August 26th 2006, less than two months ago. When we first broke the news a lot of members were dubious about the features DS-X boasted of and whether or not this device could do everything they promised, just like any other flash kit.
So what sets the DS-Xtreme apart from the others? One of the biggest differences is that DS-X, unlike the majority of other flash kit companies did not originate and are not based in China or Taiwan. This means that you won't find any Engrish on the packaging we've all come to expect or half translated official websites.

The DS-Xtreme uses 512MB of internal NAND flash memory, and does not support memory cards. The DS-Xtreme has a mini-B USB port built onto it which doesn't stick out, and still allows the DS-Xtreme to sit flush your Nintendo DS. And there's no need for a PassCard as the DS-Xtreme already has PassMe functionality built in.

Let's take a look at the features list of the DS-Xtreme - which for the first time ever, I can happily say does not contain any Engrish!

DS-Xtreme Official Features List:
One single unified device, no need for GBA Cart, external memory or passme/flashme
Functions as a flash cart, compatible with homebrew, media and other image files
Plug 'n Play, no PC software required allowing for some seriously sweet Drag 'n Drop file transfer
Intuitively designed custom operating system which is fully upgradeable
Included 4GBit (512Mbyte) onboard flash memory
Hardware design compatible with all current and future DS consoles, same size as original DS cartridge – does NOT stick out!
Custom engineered components such as a High-Speed USB 2.0 mini-B connector and full sized EEPROM.
And while it's not listed in the official features list, I think we are all well aware that this card should deliver very high DS ROM compatibility.

So how does the DS-Xtreme really perform? Keep reading and you'll soon find out.



Packaging and Contents



They say good things come in small packages. Hopefully that's true, because the box the DS-Xtreme comes in is tiny.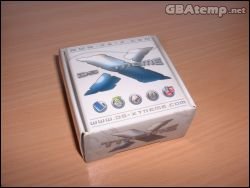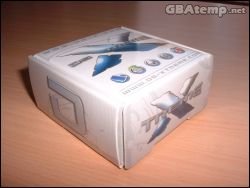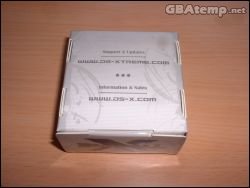 The DS-Xtreme arrives in a small tough laminated cardboard box. I can tell it's tough because it arrived on my doorstep loose inside a larger FedEx box and didn't receive any dents or scratches.

The box is plastered with the DS-Xtreme logo, and website and support URLs. It opens up via a top flap, and straight inside you'll find a USB cable.
Pick that up and you'll see a little cardboard holder for the DS-Xtreme cart that has a little "X" cut out of the top. You've got to love that.

The cart is held in place firmly by the cardboard holder and will not move around during transit.

Box Contents
1x DS-Xtreme
1x USB to mini-B cable (1 metre / 100cm)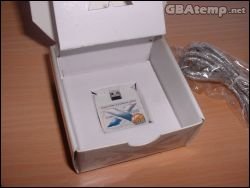 The packaging looks good and fairly professional. Unfortunately no manual or other extras are included in the box. But do you need a manual or is this cart as straight forward to use as they promised? Keep reading!



The DS-Xtreme Itself



The DS-Xtreme comes only in a white casing. And even with that mini-B USB connector on the top of the cart; they still managed to get it to measure up to the same size as a regular authentic DS game pak.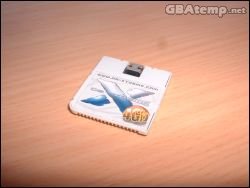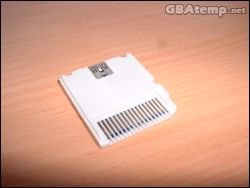 So what's up with that USB connector? Is it as fragile as everyone thought it could be? I can safely answer that question with a "no". It isn't fragile. In fact it seems very strong. The mini-B USB connector is attached to the PCB of the DS-Xtreme in four different places - twice at the two bottom corners, once on the top left and again on the top right.

I've given the USB connector a fairly rough time, bending it back and forth with my fingers and even with the USB connector plugged in and it seems very sturdy. As long as you don't intentionally try to break it, I can't see it breaking from general use.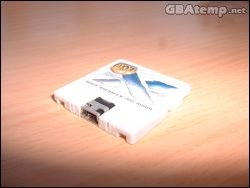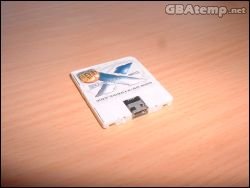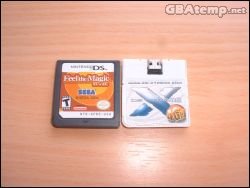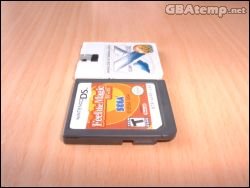 The DS-Xtreme's casing is held together by 8 small clips that run around all 4 edges - no glue, no screws. So if you're a nosey git like me, you can open it up and peak inside to see how they crammed everything inside that tiny casing. Which I did, check the photos!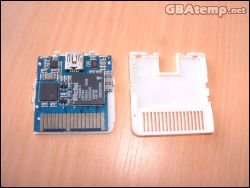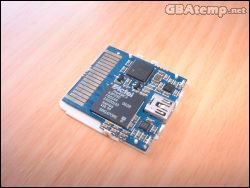 Inserting the DS-Xtreme into your DS works just as a real DS game cart should. It clicks into place, and with another gentle push down will click and eject. The whole cart (yes including the USB connector) sits flush in the DS slot and nothing sticks out.

If you want to, you can connect the USB cable to the DS-Xtreme whilst the DS-Xtreme is sat in your DS slot. The cable still fits in fine and it doesn't affect your DS or the DS-Xtreme.

On the top of the DS-Xtreme - either side of the USB port, if you look closely, you'll see 3 tiny LEDs on both sides. Red green and blue. 6 LEDs in total. What are these for? Well you'll find out soon enough.

What's left to talk about the cart build? It has a nice simple, large sticker on the front, with nice extreme looking logo and "4Gb" size logo!

Overall the build quality is very good and fortunately; the USB connector isn't the potential problem some people thought it could be.



Using the DS-Xtreme



No software is supplied with the DS-Xtreme because it doesn't require any! The DS-Xtreme is compatible with any computer operating system that supports USB mass storage devices - eg. Windows, MAC and most Linux distros.

The DS-Xtreme is USB 2.0 compatible.

So... how do you actually use the DS-Xtreme? The features list says that it allows for some "seriously sweet drag and drop" action!

Let's see what I did personally to get this card working. For simplicities sake here's a step-by-step guide to running a ROM backup on the DS-Xtreme straight from the box...[*]Open your brand new DS-Xtreme package,[*]Remove USB cable and DS-Xtreme from box,[*]Connect USB cable to PC,[*]Connect DS-Xtreme to USB cable,[*]Wait for your MAC/PC to recognise the DS-Xtreme for the first time, and to open the root of the card,[*]Drag and drop ROM backup/app to DS-Xtreme,[*]Disconnect DS-Xtreme from PC,[*]Insert DS-Xtreme into DS,[*]Select your backup/app from the 'Apps' menu,[*]Play!Just 10 steps to play a game. Now that is "seriously sweet", perhaps even extrem -- *Shot in the head*.

Transfer speeds are extremely fast - write speed was approx. 5MB (megabyte) a second, and read speed was approx. 10MB a second on a USB 2.0 compatible Windows XP system using the supplied USB cable.

When you connect the DS-Xtreme to your USB port, the LEDs on the top of the card will light up - very brightly. It's a funny, ableit completely useless feature. At least you can see where the DS-Xtreme is in the dark!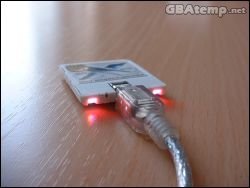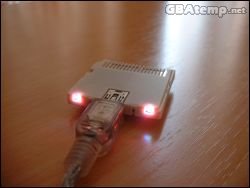 So what file formats can you copy to the card that the DS-Xtreme will support? The DS-Xtreme supports the following three formats:

NDS files: All homebrew and ROM backups must be copied to the card with the .nds extension. The DS-Xtreme will not recognise files with the .bin or .ds extension.

MP3 files: The DS-Xtreme supports MP3 (MPEG Layer 3) files via it's Music player function.

OGG files: The DS-Xtreme also supports OGG (OGG Vorbis) files via it's Music player function.

So getting content onto the DS-Xtreme really is straight forward. There's no need for patching via software, hacking or anything. You can just copy ROM backups and homebrew straight to the card via drag and drop.

The DS-Xtreme cart comes shipped pre-formatted in FAT16 (FAT) mode and has the default skin files pre-loaded onto the cart. Though the skin files aren't necessary because the firmware includes them, they are simply there so you can take a look at the skinning engine yourself and make your own skins if you feel the urge (more on the skinning engine later!).

You can copy ROM backups and MP3s into what ever directories you wish to create on the DS-Xtreme, to keep them organised. But this won't affect how the DS-Xtreme shows them when you boot into it's operating system.

So, let's look at the DS-Xtreme's operating system in more detail.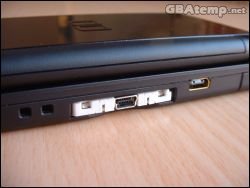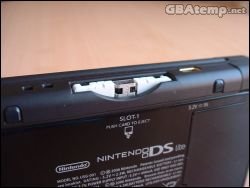 DS-Xtreme O/S (GUI):

Now we've got some files on our DS-Xtreme - some ROM backups, some MP3 and OGG files; let's put it into our DS and see what the operating system looks like.

Insert the DS-Xtreme into your DS slot and turn on your DS, and the DS will boot straight into the DS main menu and you'll see a DS-Xtreme option in the menu under the DS Card section as you can see in the photo below.

Tap this with the stylus or the 'A' button and it will boot up the DS-Xtreme O/S.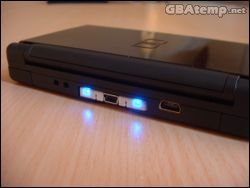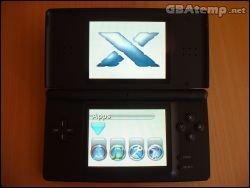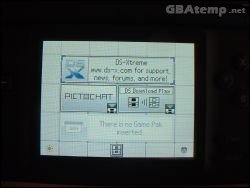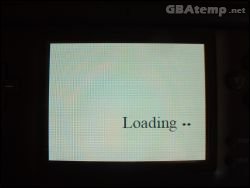 You'll be presented with a 'Loading' screen while the DS-Xtreme boots up the O/S and prepares the skin - this initial loading screen takes approximately 3 seconds.

The top DS screen gets a big shiny 'X' and nothing else. The bottom screen gets 4 main icons - 'Apps', 'Music', 'Settings' and 'About'. They can selected with the stylus or d-pad and are highlighted by a big red circle and floating upside-down triangle.

The DS-Xtreme O/S is completely touch sensitive - the only thing you need to press buttons for is scrolling up and down to select ROMS/Apps or in the settings screen.

Let's take a look at each of the 4 O/S sections in detail!...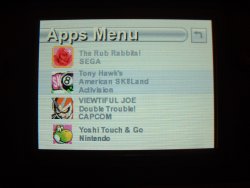 'Apps' Menu:

This is the screen where your ROMs and homebrew will appear (files with .NDS extensions).

As you enter this screen the DS-Xtreme O/S searches for ROM files before listing them, and a progress bar is displayed. The time this takes varies depending on the amount of files, but from our testing we've found the time to be anything from approx 1 to just over 2 seconds.

Games and homebrew are listed alphabetically, and 4 displayed per page. You can scroll down the page using the dpad. ROMs are displayed by their internal header information. For example, the first line being the name of the game or program, the second being the optional second line and the third being the developers name.

Internal ROM icons that are extracted from within the ROMs and are displayed next to each games name.

To launch a game or app, just double tap the name or press 'A' when highlighted. A confirmation screen will popup that asks if you want to launch or cancel.

Games boot very quickly, and there is no additional loading.

This menu is very simple to use and easy on the eyes.

You can return to the main O/S menu by tapping the back button or pressing 'B'.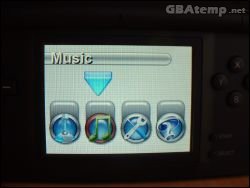 'Music' Menu:

The DS-Xtreme has a very nicely featured built-in music player that supports both MP3 and OGG formats. Enter the Music player and you'll be presented with a nicely layed out Music player.

Tap or highlight and press 'A' on 'Library' and you'll enter an iPod-ish interface.

Here you can select from the following 4 options:

- All songs
- Artists
- Albums
- Genres

Each of these options filters the music on the DS-Xtreme to whatever category you picked. Then you can play a song by finding it and tapping it or pressing 'A'. You can also generate playlists by holding down 'A' over a chosen song and from the popup menu add it to the queue.

To do this the music player obviously supports MP3 and OGG ID3 tags (v1 only - v2 support and later in future firmwares). This information (title, artist, album) is also displayed on the main Music player "now playing" screen.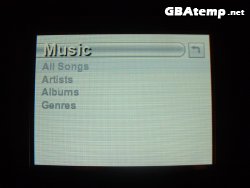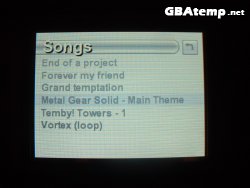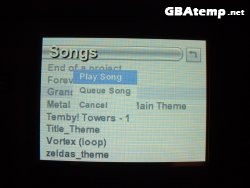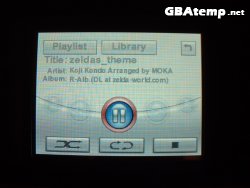 On the main player screen you have buttons for pause, stop, fast forward, rewind, next, last, shuffle and repeat.

How do you like discos? Because the DS-Xtreme has a hilarious dancing LEDs feature that works like a visualisation to the music. When the setting for 'Dancing LEDs' is enabled in the DS-Xtreme settings, and when you're playing music - the LEDs on the top of the cart (near the USB) port will quite literally "dance" to the music. So get ready to turn the lights out and start your own little Disco System (=DS??).

Although these LEDs will waste battery life at full brightness, overall they shouldn't have much too much of an effect... Outside of the music player, the LEDs at default settings have a negligable effect on battery life... So flaunt those sexy diodes!



Short video of the dancing LEDs!

The music player is a very nice full-featured bonus for the DS-Xtreme and is very easy to use, but can sometimes be a little bit slow when playing music and browsing the files (especially when Dancing LEDs is enabled).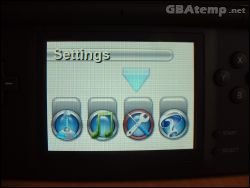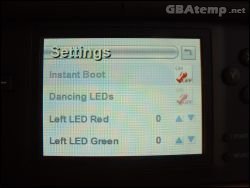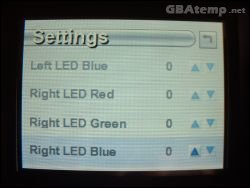 'Settings' Menu:

The settings menu lets you control certain aspects of the DS-Xtreme.

The first option is 'Instant boot' which allows you to have a particular game ROM or homebrew to boot everytime you boot the DS-Xtreme from the main DS menu and bypass all DS-Xtreme O/S pages. When this option is enabled, next time you boot the DS, it will auto-boot the last ROM file you opened.
This can be bypassed by holding down 'A' when booting the DS-Xtreme which allows you to go back into the O/S to choose another ROM or to disable the feature.

The second option, 'Dancing LEDs' allows you to enable or disable the disco lights feature when playing music (see the Music player section of this review for more information on this feature).

The remaining options allow you to change the brightness values (0-255) of the 6 LEDs on the DS-Xtreme cart. 0 being turned off, and 255 being the brightest setting. You can configure them to a colour you like.
This setting doesn't affect the Dancing LEDs feature or when the DS-Xtreme is connected via USB - just how the LEDs behave in the O/S and when playing ROMs.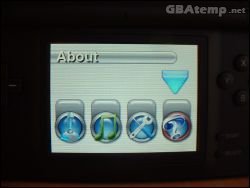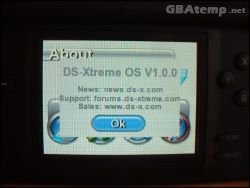 'About' Menu:

This option pops up a small box with a few support URLs and the DS-Xtreme operating systems current version number.

That's the 4 main options, but I'd like to talk about something else now, the...

DS-Xtreme Skinning Engine:

The default skin that comes with the DS-Xtreme is just a sample of what can be done with the O/S.

The O/S can be edited by yourself or even completely re-written if you have the knowledge.

The default skin is embedded in the DS-Xtreme's firmware so, you'll always have that, but if you copy over or edit the contents of the 'Skin' folder on the root of the DS-Xtreme, that skin will override the default and you can really edit everything.

We've been toying with the skinning engine for a short while and have already been able to replace and edit buttons, replace text, sizes, colours, backgrounds, boxes, options... It really is an incredibly impressive skinning engine.

I've even been talking to the guys at DS-X and they said that even things like calculators, small games and more can and HAVE been achieved with just the skinning engine.

The fact that the O/S truly is 100% customisable via their impressive skinning engine leaves the doors wide open to its possibilities, the skinning engine is very advanced and a lot can be added by skilled individuals. I can't wait to see some DS-Xtreme O/S creations.

Overall I have to say I am very impressed with the effort that's gone into the DS-Xtreme's O/S. You can tell this is a feature that must have taken a LOT of research and development time and it was definetely worth the effort.



Short video of the DS-Xtreme in use

DS-Xtreme Performance

Let's get to the dirt. How does the DS-Xtreme perform compared to other flash kits?

For the review I am going to try the following ROM backups, and take a look at how each game performs individually. I'm going to try some games that are normally troublesome and see how they work, if at all.

For your information, these are all 100% clean un-trimmed ROMs that have been copied straight to the DS-Xtreme which is formatted in FAT16 mode.
The O/S version on the DS-Xtreme is 1.0.2. (updated!)



PASS:

Game plays just as it should on a real game card.


FAIL:

Game doesn't even load or freezes before game play.


PROBLEMS:

Game works but with issues.
Animal Crossing Wild World
-

FAIL:

does not boot (using firmware 1.0.2, works fine with firmware 1.0.1).
Asphalt Urban GT
-

PASS:

Plays and saves fine.
Big Brain Academy
-

PASS:

Plays and saves fine.
Castlevania DS
-

PASS:

Plays and saves fine.
Cooking Mama
-

PASS:

Plays and saves fine.
Crash Bandicoot Festival
-

PASS:

Plays and saves fine.
Lego Star Wars II
-

PASS:

Plays and saves fine.
Mario Kart DS
-

PASS:

Plays and saves fine.
MechAssault: Phantom War
-

PASS:

Plays and saves fine.
Megaman ZX
-

PASS:

Plays and saves fine.
Metroid Prime Hunters
-

PASS:

Plays and saves fine.
Need for Speed Underground 2
-

PASS:

Plays and saves fine.
New Super Mario Bros
-

PASS:

Plays and saves fine.
Nintendogs - Lab and Friends
-

PASS:

Plays and saves fine.
Phoenix Wright - Ace Attorney
-

PASS:

Plays and saves fine.
Phoenix Wright 2 - Justice for all
-

PASS:

Plays and saves fine.
Ping Pals
-

PASS:

Plays and saves fine.
Pokémon Dash
-

PASS:

Plays and saves fine.
Pokémon Diamond
-

PASS:

Plays and saves fine.
Pokémon Mystery Dungeon: Blue
-

PASS:

Plays and saves fine.
Pokémon Ranger
-

PASS:

Plays and saves fine.
Sonic Rush
-

PASS:

Plays and saves fine.
Star Fox Command
-

PASS:

Plays and saves fine.
Super Mario 64
-

PASS:

Plays and saves fine.
Tenchu DS
-

PASS:

Plays and saves fine.
Tetris DS
-

PASS:

Plays and saves fine.
The Rub Rabbits
-

PASS:

Plays and saves fine.
Touch! Kirby's Magic Paint Brush
-

PASS:

Plays and saves fine.
Tony Hawks
-

PASS:

Plays and saves fine.
Ultimate Spider-Man
-

PASS:

Plays and saves fine.
Viewtiful Joe
-

PASS:

Plays and saves fine.
Yoshi Touch and Go
-

PASS:

Plays and saves fine.
So... Yeah. That's a pretty impressive result is it not?
Check out a more complete compatibility list here:
http://wiki.scorpei.com/index.php/DSX_compatibility_list
(Thank you scorpei for hosting this Wiki!)

A 99% compatibility ... with only one non-working game. And some games do not support download play.
So close, yet so far!

The DS-X team said they will continue to support this product and fix and bugs that are reported to them, hopefully in the next firmware update any remaining problems should be ironed out.
Edit: the first firmware update came two weeks after the DS-Xtreme launch. It fixed all save and compatibility problems but also generated an error with Animal Crossing, now this game won't boot.

Pokémon Dash works, Lego Star Wars II works, the mini-games in New Super Mario Bros. works, the intro video in Castlevania works flawlessly.

What about multiplayer between 2 DS's? That's a common problem in flash kits when sending a single cart multiplayer (aka. download play) game to an un-flashed Nintendo DS corrupts the transfer and the Nintendo logo on the receiving DS is corrupted or it just doesn't get past that screen. No flash kit as of yet supports this feature, without a flashed receiving DS.

So we tested this thoroughly on the DS-Xtreme and here are the results...

DS Download Play / Single cart multiplayer:
Unflashed DS to flashed DS -

PASS

Flashed DS to unflashed DS -

PASS

Flashed DS to flashed DS -

PASS

Unflashed DS to unflashed DS -

PASS
DS Multiplayer / Multi cart multiplayer:
Unflashed DS to flashed DS -

PASS

Flashed DS to unflashed DS -

PASS

Flashed DS to flashed DS -

PASS

Unflashed DS to unflashed DS -

PASS
As you can see this is another first for a flash cart, and an impressive result for the DS-Xtreme.
Single cart multiplayer does not work for some games though (Yoshi T&G, Big Brain academy..).

Now onto save game support... All backups we've tested have saved properly. Even games with 2mbit save types, we haven't encountered any problems yet.
Save games are held temporarily in 2mbit of EEPROM memory on-board the DS-Xtreme, and are backed up/written to the DS-Xtreme 512MB flash space when it is rebooted during the initial loading screen so it doesn't take up any more time.
But what if the game requires more than 2mbit of save space? If Nintendo decide to come out with a game that uses a 3 or 4mbit save then will the DS-Xtreme be incompatible? No. The DS-X team have told me that the EEPROM size is dynamic, and if the game needs it, it can borrow a chunk of memory off the internal 512MB of NAND flash memory, and then backup the save just as normal when the DS-Xtreme is rebooted.

Also, because save games take up a fair bit of memory on the cart when they're backed up (sometimes 256KB or more) this could potentially waste a lot of space on the limited 512MB of internal memory. But the DS-Xtreme will compress saves as it backs them up to the flash memory, and the resulting file size is anything from 2KB ~ 8KB depending on the size of the original save game.

This is another couple of very nice featured on the DS-Xtreme that makes you realise the R&D that must have went into this card.

And of course, sleep mode, when closing the lid/screens on the DS during gameplay works and resumes just fine on the DS-Xtreme

Battery Life Results:

Test condition:
Fully charged European Black Nintendo DS Lite
New Super Mario Bros. Running Main Menu and movie looping continuously
Screens at max. brightness (level 4)
Sound at 100%
All LED's on DS-Xtreme disabled.
Results:

Backup ROM of New Super Mario Bros. on DS-Xtreme = 4 hours 5 minutes
Retail New Super Mario Bros cart = 4 hours 55 minutes

Additional Features of the DS-Xtreme

There are a few nice extras on the DS-Xtreme that everyone might not know about, I've already covered 3 features, the music player, dancing LEDs and the instant boot mode earlier in the review. So is there anything else?

There are 2 other small features that are useful - PassMe mode and GBA mode.

PassMe mode allows the DS-Xtreme to act like a PassMe device and boot to a GBA mode flash kit, for example the M3 adapter or the Supercard. This is useful for unflashed DS systems, so you don't have to remove the DS-Xtreme and insert a pass card.

PassMe mode can be activated by simply holding down 'select' when booting the DS-Xtreme from the main DS menu. This will skip all DS-Xtreme menus and boot straight to your GBA slot flash kit if you have one inserted. I have tested this on the M3 adapter, Supercard, EZ Flash IV Lite and the eWin 2 and they all work EXCEPT for the M3 Adapter which is quite disapointing. Apparently the DS-X guys (and gals) are aware of this and will have it fixed for the next firmware update.

GBA mode is a semi-useful option that allows the DS-Xtreme to reboot the DS into GBA mode and start what ever flash kit or game pak is in the GBA slot. This can be done by holding down 'start' when booting the DS-Xtreme from the main DS menu.

Here's 2 shots of the LEDs at maximum brightness in the dark!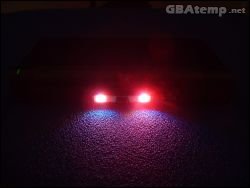 Homebrew on the DS-Xtreme

Homebrew and slot 1 DS cards are never a good combination due to the fact that most homebrew has been designed to work off the GBA slot. Other slot 1 solutions have had trouble with homebrew because of fatlib support.

We've tested 10 popular homebrew apps on the DS-Xtreme to see how they shaped up, here are our results...

All homebrew is the latest stable version and has been downloaded straight off the official websites, and copied straight to the DS-Xtreme cart or installed using the recommended method.
BeUp -

PASS

DS Doom -

PASS

DS Organize -

PASS

Moonshell -

PASS

NDS Mail -

PASS

NESDS -

PASS

PicoDrive DS -

PASS

ScummVM DS -

PASS

SNEmulDS -

PASS

Snezzi DS -

FAIL
As you can see from the above list homebrew compatibility is very high. The only troublesome app is Snezzi DS which DS-X are aware of and will fix.

Overall homebrew compatibility is very impressive, almost everything works as it should. And seeing as most of these apps were written long before the DS-Xtreme was even announced that's even better!

Conclusion

Wow-whee! OK, I'm going to use "it" one last time - the DS-Xtreme is XTREMELY impressive.

This cart IS going to set the standard for flash kits from now on, they've really hit the nail on the head on almost every aspect.

Overall compatibility is very very high, and some things work on the DS-Xtreme that have not worked on any other flash kit to date, for example single card multiplayer.

Unfortunately there are some remaining problems that we've come across, for example the one non-working ROM and homebrew. But DS-X have informed us that everything we have reported back to them is purely software related bugs and will be looked into and fixed in the next update. That new firmware should even make it into the next batch of DS-Xtreme's shipping to retailers, so some of you may not even need to perform a firmware update to overcome these few problems.

One thing that anyone can appreciate is the lack of "Engrish" surrounding this product, it's really the first to be made by a non-Asian based ableit worldwide team. The official website is already impressive with the developer blog and busy forums.

So it the DS-Xtreme worth the cash? If you want a reliable, highly compatible slot 1 solution and are happy with 512MB of space, then the DS-Xtreme is definetely for you if you can fork out the somewhat hefty price tag. The DS-Xtreme has raised the bar for all flash kits to follow and it will be interesting to see if others can match the quality set by the guys at DS-X.

Pros
+ Amazing 99% ROM compatibility
+ Supports clean ROMS
+ Drag 'n Drop! No software patching needed
+ Can be used on any computer O/S that supports USB mass storage
+ Ultra fast USB 2.0 connectivity
+ Single card multiplayer works!
+ Nice extra features - music player etc...
+ LEDs you just have to love
+ Amazing operating system / skinning engine
+ Good build quality
+ Real English fast product support
+ Fits flush in your DS
+ Supports DS sleep mode

Cons
- Limited to 512MB of internal memory
- Quite expensive
- 1 unsupported game so far (Animal crossing - Fw 1.0.2)
- Exposed USB port may put off some people, and if really mistreated could possibly be damaged.

Re-Evaluation
What a shame it is to see one of the most promising flash kits we've seen to go down the pan. The DS-Xtreme, perhaps one of the most advanced carts hardware-wise has been completely let down by the team and their ignorance. We have seen just 1 or 2 decent updates to the cart around the time of its public release, but ever since the team have been quiet.
The team always stated that the cart was only ever
officially
designed for home brew use and all official updates made no mention of improved game compatibility even if these issues were addressed. Unfortunately for the team, the largest majority of their potential customer base are going to be interested in playing game backups. Regardless of this, the team haven't improved upon home brew support anyway. As of today the DS-Xtreme's game compatibility is quite poor, most games requiring a manual "hacking" of the internal ROM files to get them to work -- a simple fix which a few other flash carts had the same problem with until they were updated.
The teams support forum has also taken a turn for the worse, with members being banned left, right and centre for asking questions such as why there have been no updates. One of the updates the team released even ended up bricking some customers devices under certain conditions, leaving them inoperable. Even after this fiasco, the team didn't respond for over a week.
Do I go on? The DS-Xtreme
cannot
be recommended due to Team DS-X's lack of support. There are plenty of other flash kits out there that have accelerated past the DS-Xtreme in terms of support for both game backups and homebrew, with better GUIs and customer support (even from Chinese based teams - as opposed to Team DS-X being based in Europe).
It would be nice to see Team DS-X go out with some dignity by releasing the source code to the public, allowing for talented people out there to update the cart themselves, which would be a nice gift for all those who own a DS-Xtreme.
I end by saying, DO NOT even contemplate buying a DS-Xtreme, and please do not support any future products from Team DS-X.
Overall
External Links:
-
DS-X Website
-
DS-Xtreme Website
Affiliated sites
Purchase this cart from our affiliated shops:



--------------------------------------------------------------------------------------------------
This review was made for GBAtemp.net ONLY. If you see it on any other site please
let me know via e-mail - shaunj66 [@
[email protected]
] GBAtemp [.dot.] net
Edited by Costello to include firmware update 1.0.2 on November 10th 06.