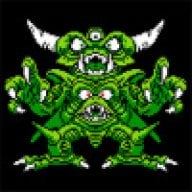 Narcistic Deathfisaro Fan
Member
Joined

Mar 16, 2007
Messages

2,052
Trophies

0
Age

36
Location
Website
XP
Country
I know some people don't trust hit rate in games.

They think the game cheats by generating a number that works against you as much as possible.

I've noticed people start to doubt when they don't get a desirable outcome at a critical moment.



I think, the only reason you think the game is cheating is because people take success as granted.
10 of 85% hits in a row wouldn't make you think "Oh wow, I've been hitting exceptionally well", but two of 50% misses would make you go "WTF that's not 50%"

It may be just me, but I realize above-average outcomes (that's more hits than expected). And I get as many below-average outcomes (more misses than expected).

I find the game very fair.

Three misses of 99% in a row? Totally possible and not weird when it happens.



Here's a short example-ish quiz. I think the results will show that not everbody thinks logically, and can be tricked into believing faulty things.

You flipped a coin 10 times. And you got 10 heads. The chance of getting 10 heads in a row is 1/1024 ~= 0.1%. Now you're going to flip the same coin again, but you need to bet first. Are you going to bet on heads, or tails? And why?