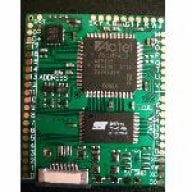 Joined

Oct 14, 2007
Messages

4,349
Trophies

0
Age

40
Location
XP
Country
Ok, so my WiineaPig arrived this morning and I'm now testing it:
1. It start and boot into the Main Menu, but only for 3sec, after that the Wiimote is still sync'd but the sounds goes off, and nothing else works.
2. I can go to Maintenment Mode with helding down + 'n - at the safety screen, and when the message apears over Main Menu it doesn't freezes, but after accept, guess what??.........right, it freezes..!!
3. If I go directly to the settings in less than those 3 secs, I'm in a safe place and it doesn't freeze, everything works perfect, but the EULA, have a few glitches on it.
4. The SaveMii free (GC controller) doesn't boot the Zelda.
5. It does a hummm sound all the time
6. the top of the cherry....................drum roll...............................*splash* it is on 3.4
I'm going to install a ModChip tomorrow, I don't see the case since it can't boot any fakesigned info, but maybe it help me in some way, and I think I'll have to call OzModChips to have them sending me and Infectus (and learn how to use it), and/or a SaveMii dongle, and see if that can do the trick.
I really think it is either the SysMenu or the IOS30 the ones damaged, I tryed to do an update, but it recongnizes the 3.4 and tells me it doesn't need the update 'cuz it is on the latest FW, so if you are reading this and have an idea, post it and if it works I'll thank you, if don't I'll send a virus to your Wii

(yeah right..!!)