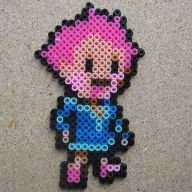 GBAtemp's Backup Reminder + Fearless Testing Sina
OP
Member
Joined

Mar 28, 2018
Messages

2,521
Trophies

2
XP
Country
Are optical drives in older consoles not as good as those in computers, particularly full-sized computer drives, not slim laptop versions (which also gave me trouble sometimes)? Why did I get this impression? I'm not talking about problems like GameCube not properly detecting (never intended to work) DVD-R, requiring laser tweaks. No, original pressed discs for the consoles.
I got a lot of my games very cheaply used and often in bundles. So it is no surprise some game discs came in very bad condition – scratched up. In my experience consoles handle scratched games very poorly.
Mickey's Wild Adventure (I think it was Mickey Mania in the US region), PlayStation 1
Winx Club (PlayStation 2 DVD)
Resident Evil Zero (GameCube)
All of these discs look
horrible!
The games loaded, but had long loading times, stuttered and crashed soon. None of my PlayStation consoles was able to correctly play the games. On one console I'm very confident to say that the laser is almost good as new; never has had any problems with good discs.
No Wii or GameCube was able to rip Resident Evil Zero with CleanRip.
Consoles: Three times fail.
(Or even more as I tried multiple units of each console type)
Put the heavily scratched discs into computer drives:
Mickey Mouse: Drive went to full rotation speed and read without struggling from beginning to the end. Burned to CD-R → Works like a charm on PS1.
Winx Club: Same as above. Ripping at full speed, ESR Patcher, DVD-R → Works.
Resident Evil: Compatible old IDE drive by LG was able to rip the disc (Redump verified). It took a lot of time, but this is expected when dumping GC/Wii discs.
PC drives: Three times success.
Consoles are also made for children. Many children are not exactly known for being very careful, so I expected the consoles to be fault tolerant and have good readers and error correction. But to me it seems consoles can handle way less errors than a CD/DVD-drive in PCs. Those drives can be bought for less than €15 new sometimes.
Am I missing something here? Do you have similar experiences – or do you disagree? Anybody got actual facts about this?
I would be grateful for any information/stories/experiences.