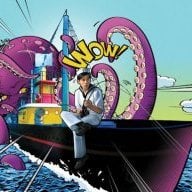 Joined

May 1, 2017
Messages

387
Trophies

0
Age

28
XP
Country
Okay, I think it's time for me to say something.

- Since I started a new job two years ago (plus the college 5 years ago) I had less time to work on personal projects, so I slowly stopped working on NSUI. Another reason is that now I don't use Windows anymore as my primary system, so developing a Windows Application is not that easy. I still have my Windows machine, but I just don't use it anymore. Instead, I usually use a macbook I also use for work and study.

- When I was actively working on NSUI I had a lot of help of a friend from here (

@Wacko22

). He helped me a lot with debugging, testing, and coming up with new ideas for the app. He may also written some code, I don't remember. We used to talk almost every day in Discord, but he gradually stopped logging in and I can't contact him anymore. I can't blame him, he probably got tired.

- I always wanted to finish NSUI once for all, but every time I open the project I always see that the source code of the application is a mess. I started the project when I had way less knowledgement of programming than now (lot of duplicate code, bad habits, etc). So every time I see it I think "Hey, I should start the project from scratch with a good base".

- I also wanted it to be cross platform, so linux and mac users could use NSUI without problems. The issue here is the User Interface. It's hard for me to develop a cross platform application with a user interface. This year I started a command line version of NSUI, but the essence of the app is the UI and the idea is that the app should be easy to use for an user. So, what's the best way to develop an application with a UI for me? The answer is: Develop it in/for Windows with Visual Studio. But then I have the same problem as before (not being cross platform). So, either I have to really research a way to make cross-platforms desktop applications (with an easy way to build binaries for all platforms) or I have to sacrifice the cross-plaform thing, which I wouldn't like to. Also it would be amazing if I can develop it directly in my macbook.

Maybe you can help me here about what to do.

- Source code? I just can't make it public. At least not the version of NSUI you all know. If someone wants to know the injection processes feel free to ask me. If I ever start a new cross platform version of NSUI (with some help maybe) I will definitely make it open source, but right now I can't upload the current code for all. I just don't want it to be visible by Ninty.

- I enter every day to GBATemp, Twitter and the 3dshacks subreddit, so you can contact me there.

Please insist

if I don't answer you.

- I have a debug build of Beta 28, but I don't really know if it's stable. It could be broken, but I don't remember. In any case I could upload it and maybe you can test it. It should have all the changes specified here:

https://pastebin.com/2HNUEBCp

Well, that's the current situation of me and NSUI. Now in my country we are having quarantine since march (and who knows when it will finish), so I'm at home 24/7. Maybe with some help I can keep working on this, either with the old NSUI or with a new version. I will check this thread from now.

PD: Sorry for my bad english.
It would be awesome if you can upload the debug build of 28 beta, i will be glad to try it and test it.