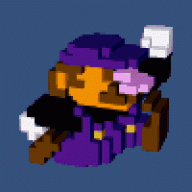 Joined

Mar 22, 2008
Messages

3,453
Trophies

0
Location
Website
XP
Country
FUNDING GOAL MET! QUADFORCE HAS BEEN RELEASED AND WILL BE UPDATED!
TO AVOID ANY FUTURE QUESTIONS, AND TO MAKE IT CLEAR...
DIOS-MIOS AND QUADFORCE WILL NEVER BE MERGED
Update 7: USB!
​
crediar​

Quadforce v4.1:

*USB mass storage support
A small update, hence the '4
.1
', but a significant one nonetheless!
Get it here!
ORIGINAL OP AS FOLLOWS:
...if adequate funding is met.
After contacting Crediar over Twitter (personally) the other day about any chance of having a new QF released if a donation pool were to be started, I got a reply from him just now
500EUR is a fair sum of money (Just under 700USD/AUD) but there have been very successful campaigns for all sorts of things (Last I checked, the 3DS hack one was about 50% there), so who knows where this could go.
Personally, if I had the cash to spare I'd cover a fifth of this myself, but no luck so far in that department. So I turn to you, GBATemp. This is the only chance we may have to get Mario Kart Arcade GP 1/2 WITH saving and F-Zero AX running on Wii, on top of any and all future updates.
We've been taunted and teased countlessly through YouTube, but it's time to make it a reality.
Thoughts, anyone? Would you donate if a donation pool was created?
Where do we contribute?

EDIT: Here!

http://crediar.no-ip.com/d.htm Why should I contribute?

Crediar is a pretty cool guy. He's one of the key people behind Dios Mios, Preloader, and SNEEK. Of course, he also is working on Quadforce, and has contributed to other projects as well.

Other homebrew developers work for free.

How much did you pay for SNEEK? Crediar is a highly skilled developer, and people like that are highly valuable to many companies. You're getting a discount on his work because Crediar likes homebrew enough to work on it in his spare time. This is intense hacking and Crediar could be working on anything he wants.

Contribute if you like him or his work, or maybe if you just want to see an updated Quadforce released. I don't think any other developer will come forward with a similar project.
Total
: 199.97/500EUR
UPDATE
Crediar has been away this past week, so my tweets to him only just got acknowledged.
Two interesting developments have occurred. First, how to go abouts donating to Crediar:
(click here!)
Secondly, Crediar suggested a very reasonable method as to how the donations will work
So now we have progressive milestones, with the first reward being AX support!
This has solidified my donation (I might go do it now!). I'll keep updating with more and more news as it develops, in particular how the reward milestones will work!
UPDATE2
The rewards list is in!
200EUR - AX Support
400EUR - CARD support
450EUR - USB Support
500EUR - Any and all future updates to QuadForce
A bit of an increase for AX support, but don't lose hope! If we band together, we can make this work!
UPDATE3: AX
Big news everyone! The total is now at

199.97EUR!

(Oh no! That's not 200!)

You're right, but Crediar being the kind soul he is, is releasing QuadForce AX anyway!

QFAX will support SD and USB Gecko, but not normal USB. That's for 450EUR.

QFAX will be the second release of QuadForce, now supporting Mario Kart Arcade GP 1&2, and the elusive F-Zero AX!

Now, I know what you're thinking, "When will this be available, 8Bit?"

Well, there's no definite date (You never know what could happen), but Crediar wants to get it released

this week.

That's not too long a wait now, is it?

So buckle up every one, and as they say,
Update 4: TomR got boost power!
Add 250 euros to the total, had some money laying around in PayPal. Hopefully this gets F Zero AX working for all those that had trouble.
Yes, that was read correctly. TomR donated a whopping 250 Euros, boosting the total up to
448.97EUR.
This unlocks Tier 2&3, and brings it dangerously close to Tier 4. But...
Update 4.5: Cyan to the Rescue
I added a little to the pool, so you could have Card Support.
I don't play triforce games, I would have prefer better NMM Support in DIOS MIOS, but people seems more happy with QF right now.
Have fun!
Cyan, the big help that he is all DIOS-MIOS related problems that come, donates 50EUR to the already high total! Bringing it up to
497.67EUR
(After PayPal fees). The addition brings us JUST close to the end!
And hey, Crediar, if you're reading this, maybe you could look into a good man's wish?
We're almost at the end of the line! The light at the tunnel is almost in full view! The train tracks are coming to an end! And other 'We're almost done' related phrases!
Update 5: CARD
crediar

quadforce v3.0

http://crediar.no-ip.com/quadforce_3.0-cred.rar …

A huge thanks to all who donated!

v3.0:

*Fixed a crash in F-Zero AX that occurred on newer systems

*Added CARD support for Mario Kart GP 1&2

*Added patch for unlimited CARD usage for Mario Kart GP 1&2

*Added Reset/Shutdown via button combo (R + Z + Start) (R + Z + B + D-Pad Down)

has to be enabled via config

*Increased deadzone of L/R for F-Zero AX
Yes! It seems the day is here! Another update to Quadforce, this time addressing the issues on newer systems AND adding CARD support!
For those who don't know, the MAG CARD was a card, dispensed from Mario Kart Arcade GP 1, 2, and F-Zero AX that allowed for saving!
Yes, this means it is now possible to save your progress in Mario Kart Arcade GP 1&2! Isn't that just exciting? No need to worry about the fact that half an hour or so of your work is now gone!
"8Bit, what about F-Zero AX?"
Not to worry, friend! Crediar is already hard at work on AX's CARD support, in fact he's
already gotten it working well!
What's left now? Well, I don't know. USB support will be coming soon, and after that it'll probably just be a few fixes and extra features.
As always, an extra big thank you to everyone who helped make this project possible! Thanks, and thanks again!
Update 6: Virtua Striker!