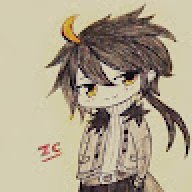 Joined

Nov 2, 2021
Messages

3
Trophies

0
Age

27
XP
Country
Hello my fellow CP fans and aspiring translators out there! As you may know, Corpse Party games are not available in latino languages, only English/Japanese/Korean, so I decided to take matters onto my own hands by making my own, just for fun of course.
Corpse Party (2021) is the newest port of Blood Covered Repeated Fear made using the Unity engine, and the most complete way to play the first game with new content added to it. I decided to take a closer look at the PC port, and what it is possible to translate.
After looking closely to the files and modifying some, I noticed that the game DOES support special characters like éáç, however it is most likely being drawn to the screen by some fallback font, since it looks kinda different. No big deal, it doesn't look that out of place.
For some reason there are 4 languages: En, En2, Jp, Ko. En2 is what seems to be used, and En is unused albeit identical. Dialogues from chapters and maplist (with the map names) are in monobehaviour files (they are in text too but weirdly enough it doesn't show up in the game if you modify these), dead list (name tag list), UI, save point list are plain text, and modification shows up in-game.
Here's the weird part:
the item names and descriptions.
At first glance, they seem to be plain text too, complete with descriptions in all 4 languages the game supports, including the unused one. However editing those doesn't do anything, in fact,
you can even delete these files and the game won't notice
.
A full day later and I'm still scratching my head, because I can't find these item descriptions anywhere, it's so weird. I tried to search all monobehaviour files one by one once again, nothing. I dumped all images from the game in case they are textures, nothing. I opened every single file in notepad++ and searched for a corresponding string, nothing. This makes me believe they are encoded somewhere, but why only the items and descriptions would be encoded? Doesn't make any sense.
I'm posting this in case someone wants to translate this game too for fun and has the answer or wants to take a closer look at this matter, because as it is, the game can be fully translated except for those item descriptions, which are somewhat important to leave in english.