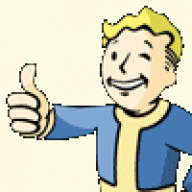 Joined

Nov 27, 2008
Messages

33
Trophies

0
Age

34
Location
Website
XP
Country
Cachwir said:

your patch does not work, Cracker.

Careful.. are you using cracker's patch or the patcher I posted? Both work fine for DSTT,
learn to READ other comments before claiming something doesn't work, it's really annoying. (It's already been confirmed that my patcher & cracker's xdelta file work flawlesly on DSTT)

As for me I regret having posted a single fix, I never imagined there's so many people who can't
do even the basics on a computer without asking for a tutorial. Maybe it'd be for the best
if we don't tell people everything but let them wonder and research.

And many many "sorries" to cracker that I released a repack of his patch,
giving even more comments like "cracker patch dont work",
even though it works and is based on the rediculously easy procedure of reading a 6 step noob-proof readme file.

QUOTE(digitallywasted @ Dec 5 2008, 06:37 AM) I have a m3 perfect SD and the m3wiki instructions didn't work because the icon was all futzed up and when ran it was black.
dude, there's no patch for m3 real/sakura/perfect, just use the cheatcodes..