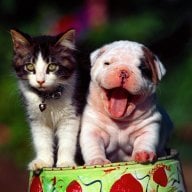 Joined

Jan 7, 2006
Messages

269
Trophies

0
XP
Country
Because simply disagreeing with the way the trans movement is being played out doesn't make you phobic of anything. If I were transphobic please explain to me or to my trans friends who aren't involved in the current movement why I'm phobic. Simply disagreeing with the way things are doesn't mean you have a phobia. You realize I'm open to dating a trans individual and like I already said I have trans friends who think people who are abusing the term transphobic is wrong.
Of course disagreeing with tactical decisions is not transphobic. However, arguing that trans people are mentally ill can be cured is transphobic, which it sounds like you're arguing. You are confused about the definition of "transphobia" based on your original post. Transphobia is defined as:
dislike of or prejudice against transsexual or transgender people.
It is not like arachnophobia, but more refers to reactionary prejudice and not an autonomous response to certain stimuli.
Your original example of the McDonalds worker would be transphobic if they decided they didn't like the trans customer because they were trans. The degree to which they chose to punish this trans person is irrelevant to the original question of whether or not they hold prejudice against trans people.
Also, the DSM categorizes trans people with a mental disorder, but having a mental illness is nothing to be ashamed about as I also have friends who are mentally disabled.
No it doesn't. Please provide a source in the DSM-5 that states that.
I also disagree with how many homosexuals go about doing things. I've had long talks with some of my homosexual partners about this. Clearly, since I simply disagree (like with the trans movement) I am homophobic, correct? You see how moronic that is. Homophobic people don't date other men on a regular basis. Simply disagreeing with a current movement or a particular group of trans people and how they conduct themselves doesn't make you phobic of anything.
Just as Bell Hooks eloquently described women being crucial to the
system of patriarchy
, Having homosexual relationships doesn't absolve you from homophobia.
If a black american is calling for slavery to be started up again, how could you argue that he was not being racist? Reactionary beliefs can be
internalized
.
I find it hard to believe that you are so into identity politics that you believe that any one person is absolved of prejudice simply because of their identity.
Labeling other people with a word with the intent to manipulate and control them because you refuse to take responsibility for your own actions and also because you're intolerant of others beliefs and want silence them so you can continue to be irresponsible and force your will onto other people is wrong. Isn't that what the LGBTQ community is supposedly against? These LGBTQ members who are doing this need to stop.
I would love to know how you have found out what the LGBTQ community has agreed on as a bloc. How can I see that survey? Where are the meetings?
It sounds like you are generalizing an entire group based on a few experiences, again.
Also, the Daily Wire isn't the only example of trans predators trying to force shame others into sex. Reddit is full of others, even LGBTQ members who have been preyed upon.

I know this in a minority of trans people we're talking about (the ones calling you transphobic because you won't have sex with them). However, everyone seems to be focusing on minorities as the trans population is like 4% . So why is it okay for you to focus on minorities and not okay for me to do the same? You must also realize that was only one example of the many different ways the term transphobic is being used to justify hate.
Please cite your sources. I'm sorry that you
feel
this way but no one is going to believe you unless you back up your claims with facts.
You have literally cited ONE person making this claim and have moved some saying they represent the "trans movement" overall (whatever that is), to now claiming that one person represents a minority. Please show me that this is anything more than a small handful of people?