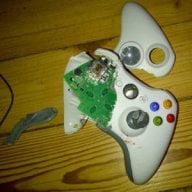 Controller Smasher
OP
Member
Joined

Jun 11, 2017
Messages

123
Trophies

0
XP
Country
Hey everyone,
So I'm in a bit of a pickle here. Usually I can find my answer by Googling/searching but just can't figure out this last part.
What I tried doing is moving everything from my o3DS to my New3DS. Simple right? No. My o3DS is region (E) and New3DS is region (U). So that was System Transfer and Faketik out the window.
I stumbled across
this method
, which took ages with 70GB+ of games/apps, but it KINDA worked.
So now my SD works in the New3DS, but there are some issues. About 40% of the games load and work fine.
But then there are the rest (all homebrew apps and a load of games) just show black icon and no banner. If I try to open one of the black icons, I get the error in the second image. They show in Data Management as blank taking up 0 blocks, which is obviously wrong and won't delete them until I know I'm screwed.
I tried Updating to latest FW, Faketik, Rebuilding Seed via CTRTransfer Type-D9 and some bits in FBI and just can't get them to show. I'm happy to reinstall all my CIA files again if I have to, but it'll take aaaages so want to make sure I have to before doing so. Also, the theme doesn't load if that's relevant.
Attached images to help explain. If you can help, I'll be over the moon!