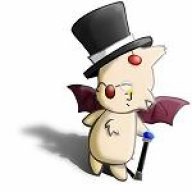 Joined

Feb 19, 2008
Messages

2,629
Trophies

0
Age

36
Website
XP
Country
I don't know about you guys, but I find rather big avatars, and by big I mean either the file size or dimensions, annoying. Do people actually read and follow the rules with them? I seen many here that just simply ignore the rules entirely. I do have a fast connection, but still, when a small avatar is about a megabyte in size, thats just going to far. Yes, I seen some people with avatars that big.
I personally have avatars and signatures turned on. I seen signatures that were larger then most people's posts. Either a lot of text, large or multiple images or large front sizes. I just find it annoying some cases since most of the ones I saw were pointless and don't add anything constructive to the forum scene.
So how do you guys feel about this sort of thing, Does it bug you, do you simply ignore it, ore are you one of the people who have them turned off?
Anyways, heres taken from the board rules.
http://www.gbatemp.net/index.php?act=boardrules
Avatars and Signatures
Avatars and signatures are available for members to personalise their posts by adding their own custom images or text. Do not abuse this right, or it will be removed.
Obscene, vulgar or sexually explicit images or any image that the GBAtemp staff feel are not appropriate are not allowed in signatures and will be removed WITHOUT notice and may result in an increase of the members warning level.
The following image is an example, to help you understand the average size of a main signature graphic.
You may go under and over the 400x100 pixel guideline as long as it doesn't appear too big. We will be lenient on this, so just don't make your signature ridiculously large.

Signatures that the GBAtemp Staff find are too big will be removed without notice, and the member in question should receive a PM from the Staff member explaining why their signature was removed or reduced.
Unlike the resolution of the main signature graphic, there are set file size limits.
The maximum file size for an avatar is: 25KB,
The maximum combined file size for all graphics in a signature is: 50KB.