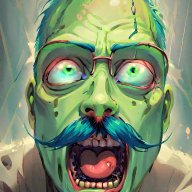 Well-Known Member
OP
Newcomer
As the title suggests, I haven't been in Ds homebrew hacking, flashcards or backups for many years. My wife want's a 3DS and I told her I would buy one only is a good flashcard solution was available. So, I guess you can consider me the newest of newbs when it comes to 3DS since I have never even owned a 3ds. Back int he day, DS card stuff was easy as pie with the right setup. I am a veteran of XBOX, PS2 and GameCube hacking and mods so I don't need to be taught how to double-click an icon, only I DO need some advice on what the best available setup for 3DS is. I will be buying a brand new, never used, new 3DS XL so I will assume it's on a late version of the firmware. If all you guys would have access to was a brand new unit right from Walmart, what solution would you choose for homebrew, rom loading etc? Homebrew being especially important.
Just start with the assumption I have no idea about any kind of 3DS hacks and you will be on the right track in helping me make my wife the happiest woman on the planet.
In advance, I will say thank you to anyone willing to spend some time helping me find a good solution to get into 3ds stuff. If any community can do it, it's you all!