GBAtemp's Flygon Fan
OP
Member
Joined

Oct 11, 2010
Messages

5,532
Trophies

0
Age

34
XP
Country
This review was planned for release on June 20, 3PM SST (GMT +8). However, I figured that it would be best to release it exactly 5 working days before the release of its sequel, Black and White 2 Versions. Hence, this review will be released 2 days before planned.
Every Pokemon handheld main game leaves me an amazing impression. No matter the similar game system, no matter the similar stats, Pokemon for handheld is always a legacy and a tremendous handheld franchise. True enough, Pokemon Black and White is no exception. The new set of Pokemon games aims to let new players enjoy Pokemon like how we did with the previous generations.

My first actual Pokemon game I ever completed was Ruby. The first set of Pokemon games I ever played was Pokemon Gold and Silver (I played that before Red). Like all the rest of Pokemon handheld main titles, Black and White has really something for every trainer to look forward to, be it the newbie or the old.
MASSIVE SPOILERS ARE IN THIS REVIEW. READ AT YOUR OWN RISK.
Reviews are purely opinion based.
All rights go to the respective owners for photos used in this review.
There will be mistakes in this review: be it language wise or content wise. I sincerely apologize for such errors.
I have not played the online component for this game for over a year (due to upgrade from WEP -> WPA2) and I'll write it based on my previous experience. Some things might have changed.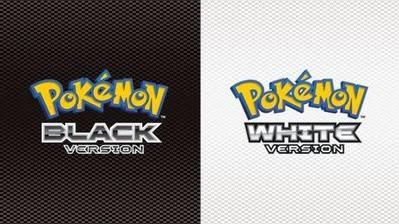 You and your two childhood friends set to go on a mission to become Pokemon Masters. Like previous titles, you will need to travel across the region to obtain 8 badges, then go to the Pokemon League. Unlike previous games though, you will encounter a villainous team known as Team Plasma who are a sly bunch set to free Pokemon from trainers. The leader of Team Plasma is N, together with admins, the seven sages and the Shadow Triad.

N will meet you occasionally and 'befriend' for the first half of your journey, later to reveal that he is the leader (or rather, king) of Team Plasma. He will then face you in the Dragonspiral Tower near Icirrus City, unleashing the legendary Pokemon to aspire Team Plasma's goal. He defeats the champion, and you are the only one left to defeat N and stop Team Plasma for good. Is that the end?

Read the full plot here.
What's new
Pokemon Black and White take place in a brand new region with a brand new story. Pokemon was never really story-centered anyway, but Black and White really blew it off. The storyline of Black and White is vast and fresh, and the experience is different than what the previous Pokemon games have to offer. Despite this, the story ends off quite swiftly and can get a little confusing. The post-story events feel a bit torn off and redundant too. The game overall feels much shorter compared to the previous gen, largely due to extremely short routes (you should see how short Route 10 actually is). However, the game has a heck ton of rival battles, largely thanks to the number of rivals you have. (if you count N in, that makes it three!) It can get extremely boring and very tedious.

Unlike the previous titles, the main villainous team in Black and White really makes a huge part in the overall plot and storyline. They aren't asses who want money like Team Rocket, they aren't territory-ambitious groups like Magma or Aqua, they aren't world controllers like Team Galactic. Rather, they are a cliché of evil trainers, hoping to separate Pokemon from their trainers. The goal of this villainous team goes to the very extreme, when the leader catches a legendary Pokemon, using it against anyone blocking their way.

The storyline isn't the most unique thing about Black and White. Generation V mechanics play a huge role as well. The Pokemon Center, Mart and all internet stuff have been moved to a unified center. Besides this, battles are now much faster and more lively. The whole scene runs at 60 FPS, with fully animated Pokemon sprites. Sadly, the low resolution of the DS kinda ruined the experience altogether. Pokemon sprites look pixelated and distorted, the whole battle seems a little run-down thanks to that.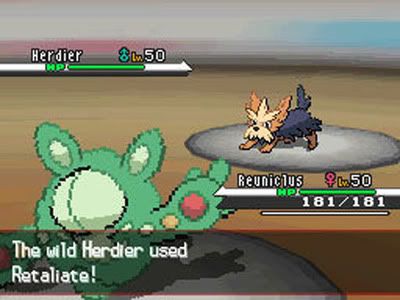 This scene would look so much better if the DS had more pixels​
Pokemon Black and White introduces not one, but two new battle formes, namely triple battles and rotation battles. Although both battle forms are available in both versions, one of them will have a larger focus in each. If I'm not wrong, White will have more focus in rotation and Black will have some triple excitement.

Let's put it this way, I hate these new additions. Not only they add little to the excitement, the additions to battle system are awfully redundant and confusing, especially when you first play it. I kinda prefer rotation battles though, because it is much less confusing and switching Pokemon can be done in a breeze. Triple battles could really take some time to master, because the experience is a whole lot different than when you first start double battles in Ruby and Sapphire, or even Diamond and Pearl. Once you have mastered the art of triple battling, you might find it more interesting. Sadly, I'm not in that group. Thankfully, triple/rotation battles are often optional and only happen a few times in the whole game.

Of course, there are other stuff besides the confusion. There are some cool new move sets like Combined Moves which are normal attacks that create more powerful effects if used in the battle with your partner. Some examples include your starters, or even the legendary mascots!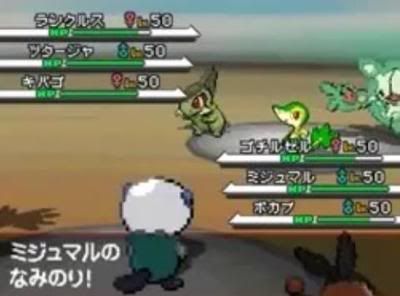 Triple Battles are unnecessary and confusing, but certainly not boring.​
Pokemon Black and White has improved camera control, and there's this great focus on 3D improvement. There are certain moments when the game looks great, with sweeping camera movements and changed perspectives (ahem Skyarrow Bridge). However, sometimes it is also a huge blow. The improved 3D elements sometime show how disastrous the DS graphics are, with a lot of pixelation and jaggy portions. It also shows how weak the internals of the DS are.

In a nutshell, if Game Freak developed the game on a much later date, Pokemon Black and White would have been so much better on the Nintendo 3DS.
Skyarrow Bridge looks amazing with the new 3D elements, but it is horribly pixelated.​
There are no familiar faces in Pokemon Black/White. For the first time since Red/Blue, older Pokemon do not return (at least in the beginning). As you progress through the hours and hours of story, you'll see nothing but brand new Pokemon. This is often a good thing as seeing new Pokemon every few minutes recaptures that feeling of adventure the first game had (a goal in which Game Freak had in mind).

Sadly, some of these Pokemon just... suck. I have generally no opinion since some Pokemon already sucked since Gen 1, but a vanilla icecream that can't be eaten? Pssh!
Communications
Pokemon Black and White are DSi enhanced. That is, they have DSi exclusive features like video chat and enhanced WPA2 security support. The Japanese version of Black and White are region locked on a EU/US DSi or 3DS and cannot even be booted in DS mode. Thankfully, the western versions don't have any sort of region locking. I expect this region lock to take place with the upcoming sequel though, due to the AR apps on the 3DS. The games can be played on any region DS/lite.

The coolest communication feature of Black and White has got to be the C-Gear. The bottom screen is a constant menu for multiplayer, allowing you to jump into a trade or a battle almost instantly using the games IR functionality. No more a need for Pokemon Center! The IR is built-in the gamecard, so sadly you can't use the IR function on most flashcarts. Other than that, the C-Gear also communicates to the Dream World on your PC. You can send a Pokemon over via the C-Gear and it pops up in the Dream World page on the web. There are exclusive events and other cool stuff you can get with it.

The last cool thing is about the Entralink, or High Link in Japanese (which is what I usually say). The High Link can be accessed via the C-Gear and its a local wireless feature for you to pop into your friend's world for quests and rewards.

Of course, no Pokemon game is complete without its own Battle Tower, or rather... subway. The Battle Subway replaces the Battle Tower and likewise, there are local matches, online tag, solo and many other modes like double battle modes. One train in the Gear Station brings you to Anvile Town, where you can get a free rare candy.
Overall verdict
Pokemon Black and White is simply an amazing compound, consisting of the original Pokemon elements mixed with brand new elements on its own. Would I recommend this game? Most definitely. It does have its flaws though. It feels short, it feels incomplete. The game is also disappointing in visuals thanks to hardware. Does it have a massive impact? Not really, but the rival battles do. There are simply so many, and they can get extremely tedious. A rival battle might just happen after getting one badge! The lack of rival interference after the main story however, can get pretty dull.
Pros
Interesting and amazing storyline
Improvements in 3D elements
Improvements in all battles
Communications have never been easier and more fun
Cons
Awfully pixelated (partly a hardware issue)
Too many rival battles - annoyance
Story feels a bit lost towards the end
Overall verdict for Pokemon Black and White: 8/10