AmplituDS v3.1
Antialiasing, boot time halved, etc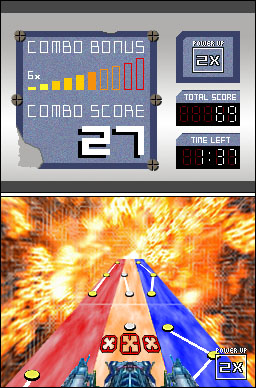 An update to one of the earlier released homebrew games for DS, a clone of the PS2 game of the same name. For those not familiar, you're basically flying in a space ship along a track, and have to shoot targets to the rhythm of the music. Download and a full list of changes below.
[title:Changes]# Approximately twice as fast start up time.
# Anti-aliasing used for 3D graphics.
# The targets are not missing sections anymore.
# The 'amplituds' folder does not need to be placed in the root of your media card anymore, it is searched for. Meaning you can have it as a subfolder of a "data" folder on your card for example.
# Max-Media Dock users should not have to set their clock to 00:00 anymore (untested).

Download

Homepage