I've been selling a
3.5" to 2.5" drive spacer
for the PS2 for a while now for those using smaller hard drives or solid state drives. However, I've had a couple requests to make a 3.5" drive sled. I wasn't even aware it was a thing, but the original network adapters had a steel sled that the hard drive would mount to. The tricky part is to make it out of plastic... So, here is my 5thish print. Its still may need a little massaging, but it seems to work pretty nice in my own testing on my PS2 fats that I have kicking around.
The sled has some nubs that snap into the hard drive screw holes. Since its plastic, I could not print it thin enough and also have it strong enough to include screws. However, it clips in nicely, and its pinched by the sides of the PS2 enclosure, so it holds quite nicely.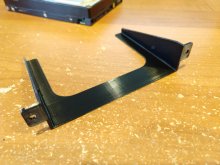 It snaps right on to a 3.5" drive.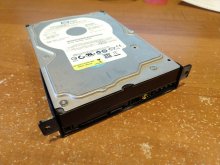 Then, you can just slide the whole assembly into the back of the PS2 and the side tabs stop it from going in too far.
I'll likely have these up for sale in the not too distant future. I'd love to hear your thoughts and if you're at all interested in this idea.