Product Information:
Release Date (NA): July 16, 2020
Release Date (EU): July 16, 2020
Publisher:

Whitethorn Digital

Developer: Insatiable Cycle
Genres:

Chatting simulator, Visual novel

Also For: Computer, PlayStation 4, Xbox One
Game Features:
We should talk about 'We Should Talk', a new game releasing today that's about... talking and texting. Should you engage in the conversation?
We Should Talk puts you in the shoes of an unnamed protagonist who just came to 'The Getaway' bar. After ordering your drink, you start to converse with the other patrons as well as with your partner, Sam, via text.
Conversing and texting is all you'll do in We Should Talk as it is a visual novel-styled game with a different look (but really, it's more of a chatting simulator). Rather than having flat, animated characters, this title puts you in a 3D-rendered pub, with an aesthetic of what I liken to "refined polygons". It brings originality to the title and the soft pop background music fit in the atmosphere.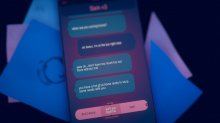 The interesting approach to its "gameplay" mechanic is the way you text or talk with others. Unlike visual novels where you choose between some pre-structured responses, each phrase in We Should Talk is split into blocks and each block has a certain number of choices which you can mix and match to make your own sentence. This sentence that you come up with will influence the reply from the other end and allow you to progress. And progress in We Should Talk revolves around relationships: with your partner and the strangers you meet at the bar. Will you work on strengthening your relationship with Sam or break up? Will it be a peaceful or stormy break up? Will you stay alone to figure things out or try getting in a relationship with one of the people you meet at the bar?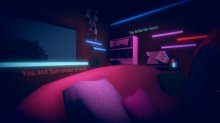 In this way, We Should Talk comes off as interesting at first but as you go through multiple playthroughs (as the game wants you to), you inevitably come across the same replies. What's disappointing is that often it doesn't really matter what you'll choose to say as the A.I. will say what it's been pre-programmed to; this gets apparent after a couple of playthroughs.
Each playthrough is very short - as short as 5-10 minutes - with 9 different endings depending on choices you make. But it's not rocket science to predict the outcomes based on the conversation routes you make. However, twice while making different conversation choices, the game would just freeze on me (not the console, I checked) while the background music kept on playing fine. This prevented me from proceeding and I had to reboot and lose my progress.
Another technical issue that bugged me was the load times and the noticeable delay before a message appears. These can easily be solved with an update but they were present at the time of writing. (EDIT: These can apparently be fixed in the texting speed setting but still doesn't fix the game's other glaring issues. Apologies for the misunderstanding!)
The bug of death
Additionally, while We Should Talk offers quite a healthy roster of words to make phrases out of, it sorely lacks in terms of in-game characters. There's a grand total of 3 visible characters and your partner whom you only communicate via text and only see her sprite in certain endings. Adding more characters to the mix would make for a more enticing gameplay, especially if the developers want you to go through multiple playthroughs. More NPCs would also add to the atmosphere in a branching narrative game and since it's set in a bar, it wouldn't be far-fetched to expect this.
These constraints might be understandable given that We Should Talk was developed by a small team who put an equally small price tag of $6.99 on their game. However, it feels more like a demo than a full game and still have lots of room for improvement. Ultimately, you won't miss much by not engaging in this conversation as we're done talking.
We should talk. Launch Trailer - Nintendo Switch
Verdict
What We Liked ...
Presentation
Mix-and-match aspect of progressing
Multiple paths
What We Didn't Like ...
Game-breaking bug
Extremely short playthroughs
Expected outcomes
Limited characters
6
Gameplay
While the mix-and-match mechanic adds some novelty to the visual novel genre (or its own chatting simulator genre), the outcomes are ultimately easily foreseeable and repetitive after a couple of playthroughs.
7
Presentation
This title has quite an attractive presentation but only as much as it can offer for such a short game.
4
Lasting Appeal
You might want to stay to unlock all 9 endings but the limited cast, game-breaking bug and repetitive conversations didn't do a good job at getting me to stay.
Overall
With its bugs, loading issues, extremely short playthroughs, limited cast and predictable outcomes, We Should Talk feels more like a demo than a complete, polished game.