From Mondo's partnership with Sony Masterworks and Naughty Dog comes the 12" LP vinyl record 'The Last of Us Part II: Covers and Rarities'. Let's give it a listen!
After releasing The Last of Us Part II soundtrack vinyl, Mondo is back with another LP record based on the video game franchise: The Last of Us Part II: Covers and Rarities. As the name suggests, it features a number of covers recorded for The Last of Us Part II game, and by none other than the game's main cast actors. Let's take a closer look!
Before even taking out the record, you will likely be drawn to the cover sleeve's artwork. Illustrated by Dani Pendergast, it centers around Ellie's guitar hugged by lush flora and a couple of butterflies flapping about.  The back cover features a similar scene, albeit less colorful and less expansive. There, you will also find the track list which include all five acoustic covers from the game's pre-release marketing, or the game itself, performed by Ashley Johnson (Ellie), Troy Baker (Joel), and guitarist Chris Rondinella.
On the inside is a liner notes by the game's director Neil Druckmann. In it, Druckmann shares the importance of music in The Last of Us; pointing out how it has been part of the franchise since the first game's early production. Druckmann also writes how Naughty Dog wanted to release these songs performed by the lead actors while in character as a standalone album for some time.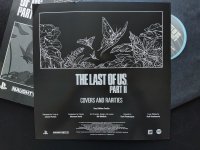 Like the cover artwork, the LP record itself is visually striking. Pressed on 180 gram colored vinyl, it is mostly translucent with small bluish patches spread across the surface and a central sky blue patch that seems to be gliding towards the top left edge. This colored version is currently sold out, with orders on this version shipping in March 2022. If you can wait till then, I'd recommend getting this version.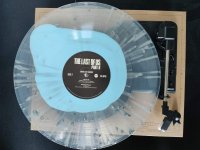 As for the tracks themselves, they are of high fidelity as is now customary with Mondo's vinyl records. At 45 rpm, the audio is crisp and clear and hearing the covers of titles like Take on Me and Wayfaring Stranger by Ashley Johnson and Troy Baker in character easily takes one back to the world of The Last of Us. It really feels like hearing Ellie and Joel singing to you and this makes The Last of Us Part II: Covers and Rarities a great addition to the music catalogue of collectors, audiophiles and fans of The Last of Us alike.
However, for $25, the number of tracks might feel limited but the artwork, quality and presentation, on top of it being an officially-licensed product, will surely justify the buy for the gaming soundtrack audiophile in your life.
Verdict
What We Liked ...
Stunning cover artwork
Colored vinyl aesthetic
Audio quality
What We Didn't Like ...
Limited number of tracks considering cost
Overall
Take a brief trip into the world of The Last of Us with Joel and Ellie's iconic song covers in this aesthetically-stunning LP record.