With its Quest Pro Counter Weight Enthusiast Kit, Studioform aims to enhance comfort for Oculus Quest users. Does it achieve this aim?
With the Oculus Quest's design, the headset's weight is shifted to the front. While it might not be bothersome at first, its weight can be felt pressing on the face during extended gaming sessions. Unfortunately, the stock straps don't do much to alleviate the weight balance and you don't have to be a "counter weight enthusiast" to appreciate the need to fix this. For this purpose, companies offer counter weight solutions like the head strap accessory from KIWI Design we reviewed before. Here, we'll take a look at another add-on - more precisely, a series of add-ons - from a different company, Studioform, that takes counter balancing the Quest to the next level.
Their Quest Pro Counter Weight Enthusiast Kit comes in either 300g (11 Oz) or 500g (18 Oz), but the Quest itself weighs 571g (20 Oz), so the latter option might be better suited to help distribute the weight. The unit tested is the 500g version and this review will reflect the experience following this model's use.
First there's Studioform's Quest Deluxe Strap that looks like a padded piece of cloth with velcro ends. It is produced with the company's own custom bonded Studioform Looptex fabric to give three layers of foam padded comfort. It looks and feels nice to the touch and is indeed quite thickly padded, making for a comfortable experience while worn. It's also easily and quickly set up with the velcro patches on each side that loops around the Quest's original straps on each side. There's additional velcro strips to help affix it to the Quest's stock strap that runs perpendicular to the Deluxe Strap.
However, even if setting it up is easy, it does take some time to find the best individual fit and this process has to be repeated if you are sharing the headset with someone else. Moreover, I found that I have to readjust the Deluxe Strap after each use. Here I would have preferred if this add-on would have had some elasticity for an easier fit, without having to adjust it every time I put the headset on.
Once this is done though, you will find an improvement in the weight distribution. That's because the Deluxe Strap partially "lifts" the headset with its velcro straps looped around the original Quest straps. Studioform sells the Deluxe Strap separately at a discounted (but rather pricey) $17 but I would not recommend this as it will still be an incomplete solution due to the fact that the weight is still balanced mostly towards the front and that's where the other add-ons in the kit come into play.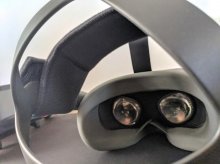 These additional add-ons are weights wrapped in a similar padded fabric material to the Deluxe Strap with velcro strips on one end. There are 3 of these; 2 of which attach to the top of the stock straps and 1 at the bottom strap. Those weight inserts are also malleable (if you press hard enough) and can be bent to adjust to the stock strap's curvature. They are also padded and don't cause discomfort while the headset is on.
However, given that they are weighted add-ons, the original Quest straps were not designed to have these on at all times. With the device in use, it's not a problem but I feel like they might cause strain or even tearing of the stock straps if they are left on while the device is not in use. You can even see the top straps bend when resting the device on a flat surface. So I always take them off after every session with the Quest. It means that I have to loop them back in every time as well. And don't forget that you also have to adjust the Deluxe Strap for each session as well.
But, unless you're in a hurry, it's worth it as the counterbalance effect is really felt with these on. The weight is well distributed on the front and back and really makes for a more comfortable experience with the Quest. However, it's worth noting that for seated experiences, these do get in the way of the head rest as they do create protrusions at the back.
Studioform's Quest Pro Counter Weight Enthusiast Kit feels like an elaborate contraption and it looks rather DIY-y; the kit's packaging was itself very much DIY as I received it in bubble wraps, some thin carton sheets and a crumbled piece of paper with the instructions printed on. This rather poor effort on the presentation is rather surprising as the kit is priced at $38.9; which is supposed to be a discount as the official website notes the regular price at $47.95!
But if you do have money to spare, the Quest Pro Counter Weight Enthusiast Kit will offer added comfort and really help to improve on the weight distribution as it sets out to achieve.
Verdict
What We Liked . . .

Easy to use

Comfortable accessory

Properly help redistribute weight

What We Didn't Like . . .

Pricey

Need to adjust add-ons on each use

Poor presentation
7.5

Overall


If you can overlook the poor packaging and the need to adjust the add-ons at every use, the Quest Pro Counter Weight Enthusiast Kit from Studioform will really help in fixing the weight distribution of your Oculus Quest and make for a more comfortable VR experience.